5 Tips to Motivate Kids to Move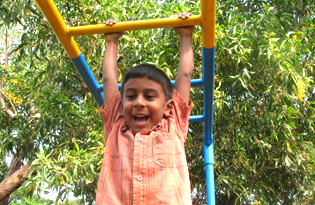 Need some inspiration to get your kids moving for the Fit Family Challenge? Try these sneaky ways to slip in some minutes of activity.
Seems obvious, but make it fun!
If a child hates team sports, let him run or shoot hoops alone. Have sack races in the backyard so she doesn't even realize she's exercising.
Practice what you preach.
Don't force the kids to turn off the TV and play outside if you're on the couch eating chips. Get out there and run or play with them; let them see that fitness is a regular part of your lifestyle.
Have a little healthy competition.
Many children thrive on "beating" someone else – especially siblings. Who can eat the most veggies today? Who will be the first one to run to the end of the street and back?
Choose the right activities.
If the sport, game, or play doesn't suit the child's interests; or it's too difficult or too easy, he will become bored or frustrated.
Invite friends!
If your preteen can socialize while hiking through the woods, she's more likely to agree to do it. The more the merrier! 
Read more: 


Health and Wellness Tips for Kids