5 Tips for Keeping Healthy Habits a Family Affair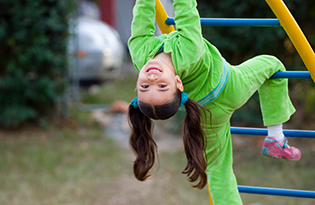 1. Model the behavior you want to see in your children. Don't expect them to run and play outside at night if you're on the couch laughing at the latest sitcom.
2. Hold one another accountable. It's a lot harder to sit on the couch all evening if the rest of the family is going for an after-dinner walk together or riding bikes at the park Saturday morning. Encourage and cheer for one another as progress is made.
3. Schedule fitness into the weekly calendar and give it the same level of importance as other appointments. [Find a fitness class near you]
4. Give yourselves rewards. The entire family gets a board game night after three evening walks, or you'll buy a new soccer ball after joining a soccer league. Just make them healthy rewards!
5. Best of all, make it fun. Do things together and alternate activities based on the various family members' interests and abilities, such as a scenic walk through the woods, a family game of soccer, or just bouncing around the living room pretending to be rabbits or frogs. Be creative!
Lisa Hassell is a freelance writer who lives in Indian Trail with her 4-year-old son and a menagerie of pets.
Did you know?
Your family can earn points and win prizes for integrating healthy habits into your daily lifestyle. Find out more about the Fit Family Challenge.