5 Tips for Great DIY Holiday Family Photos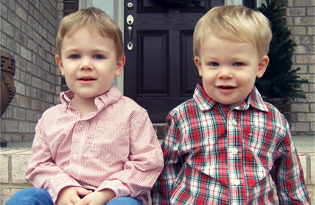 We know it's not easy, but use these tips to capture the best DIY family holiday photos yet.
1. Choose your location. Before everyone gets dressed, before the session begins, before the kids start to get goofy, know where, when and how you are going to take your family photos. And pick two locations – one that you really, really want to use, and one as a back up.
2. Be aware of light. Visit your location at the same time of day you plan to take the pictures. Avoid bright sun that creates shadows under the eyes or causes people to squint. If you are indoors, use the light from a window or open doorway.
3. Choose your outfits. Try to avoid really bright colors, conflicting patterns or anything that matches. This is a great time to get the kids involved – let them pick out their favorite outfits and have them help with what you wear. The more the kids are involved in the planning, the more interested they will be in the entire session.
4. Test your camera. Before getting the family together for the session, make sure your camera is working. Check the battery, the CF/SD cards, and take a few test shots to ensure nothing is wrong.
5. Let the kids direct the shoot. One way to keep the kids engaged is to let them direct what is happening. If they need a little help taking charge, and staying interested in having their picture made, let them have a tickle fight, make silly faces at each other or have a staring contest.
Provided by Jenn Bebb at clickinmoms.com.

The Design Aglow: Posing Guide for Family Portrait Photography by Lena Hyde (Amphoto Books, $21.99) presents 100 portrait poses for newborns, babies, children, siblings and families. Why should the pros have all the fun? Use this book as a guideline for taking your own beautiful family photos. All ages; hardcover. Available at Amazon.com.