5 Things to Know About High School
What you need to know to start the school year strong.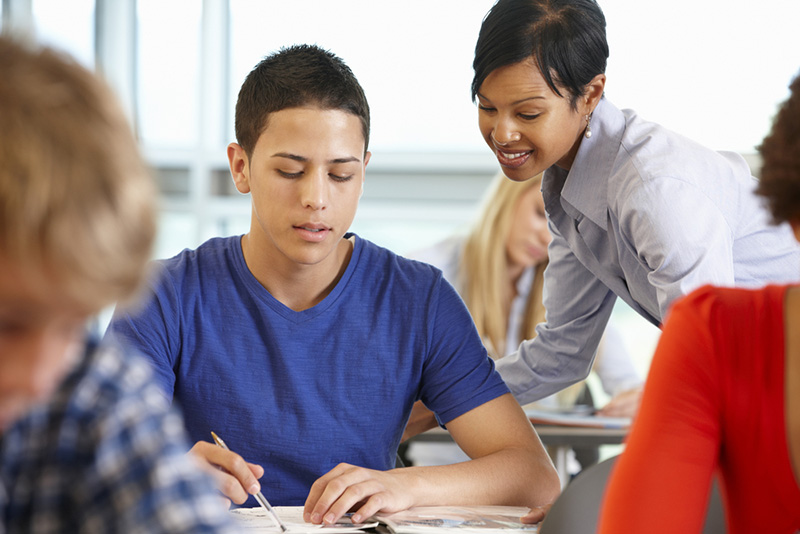 1. Making the Grade
The myth that freshman year grades don't matter is just that — a myth. Whether your child breezed through middle school with As and Bs, or struggled to score Cs, there's no disputing the fact that grades hold more significance in high school, where your child's academic choices can chart the course for her college future.
Expect high school to be more academically rigorous, and pay attention to signs that your child is falling behind: skipping class, failing to make up late work and complaining that teachers "just don't like me." Engaging a tutor early on can head off difficulties later.
---
2. Teacher Talk
Parent-teacher communication shifts in upper grades. Expect to hear less from your child's instructors. There's a good reason for this.
"There is a larger impetus on student responsibility in self-advocating, and those transitions can be tough," says Mark Savage, principal of Heritage High School in Wake Forest. However, parents with questions or concerns should speak up promptly. High school teachers often welcome parent contact and are quick to respond.
---
3. Step Into Sports
Whether your child shines on the basketball court or prefers solo athletic pursuits, high school is a great time to lace up those sneakers. But be prepared for long afternoon practices and traveling across town — or possibly the state — for games.
According to the National Federation of State High School Associations, nearly 8 million American high school students participate in school sports each year; North Carolina ranks 13th in the nation for numbers of student athletes. School sports are linked to better grades and lower teen pregnancy rates, and can provide a boost to college applications, too.
---
4. Calendar Crunch
High school is an ongoing four years of college preparation. "Typically, student services hosts individual grade-level nights to go over any unique requirements and timelines," Savage says. "Counselors are the main conduit for questions as to these college application processes."
Freshman and sophomores should concentrate on challenging themselves academically and getting involved in extracurricular activities; and juniors should develop a list of prospective schools, make campus visits, and take SAT and/or ACT tests.
"Fall of senior year is when the application process is really in play," Savage says. "Many schools provide college application workshops and help throughout."
---
5. Step Back
High school is a time when students still need parental guidance and support, as they learn to self-manage their academic, social and personal lives. For parents, this involves knowing when to step in and when to let go — easier said than done.
"Knowing when to intervene and when to let go is an inexact science when your child first comes to high school," Savage says. "Even though your child may be asserting more independence, it is still critical for you to know their teachers, come to the school for events and know their friends."
---
Malia Jacobson is a nationally published journalist and mom of three.
---