5 Tasty and Healthy Lunchbox Alternatives
Change up the lunch menu to prevent sandwich burnout.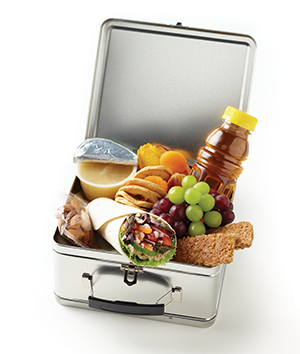 Sandwiches can be healthy and fast, but changing the lunch menu every once in awhile for your child can prevent sandwich burnout. Following are five simple and healthy alternatives from Patricia Azra, registered and licensed dietitian and nutritionist at Carolinas Healthcare Systems, LiveWell Health Center, to help keep lunch interesting — and they aren't just for kids!
1. Mediterranean Medley
Whole-grain sliced pita bread + hummus + cucumbers/carrots/olives (or other favorite veggies)
2. The Layered Salad
It's all about the order. In a lunch friendly container, layer:
First: salad dressing (wet at the bottom)
Second: chickpeas
Third: the fixings — carrots, tomatoes, corn
Fourth: romaine lettuce
3. Stack It
Whole-grain crackers + hard-boiled egg slices + avocado slices
4. Protein Plus
Three-bean salad + turkey and cheese cubes
5. Pasta Perfection
Whole-grain pasta + chicken and mozzarella chunks + cherry tomatoes and spinach + vinaigrette