5 Last-Minute Summer Camp Tips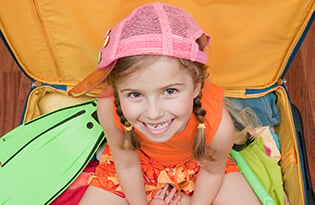 Preparation is key when it comes to sending your child off to an overnight summer camp. But as a mom, you are busy and now it is the night before camp starts and you haven't even started to pack! Never fear, we have some great last minute tips that will ensure your child will have everything they need and be well prepared for camp (and so will you!)
1. Pack it up. Most camps will provide a packing list with everything you could ever think of! Be sure to double check the list, and if you didn't get one, check the camp website or give the camp director a call. Be sure to pay attention to items that are not permitted at the camp as well.
2. Label everything. We mean everything! Clothes, shampoo, toothbrush, flashlight … there is no limit to what you can label. This way your child will be able to tell their things from their campmates. Label with your child so they will know what to look for on their belongings.
3. Have a getaway plan. In most cases, it is harder for the parent to say goodbye than it is for the child. Give them a detailed plan and stick to it. For example, go with them to the cabin and help them make up their bed, then say goodbye  and encourage them to go play and discover what the camp has to offer. Don't linger, it will only make it harder for both of you!
4. Dress appropriately. Check the dress code for the camp. Some require all girls to wear a one-piece bathing suit if swimming or to have shorts of a certain length. Don't let your child miss out on camp fun just because they don't have appropriate attire. This goes for shoes too, kids can't go hiking in flip-flops!
5. Fill out the forms. All medical forms and waivers need to be filled out by the time your child arrives at camp. Also pack any medication they may need and check with the camp to see what the protocol is for distributing medication and where prescriptions medicines are stored.
More Summer Camp Tips:


View all Camp Articles