5 Great Carolina State Parks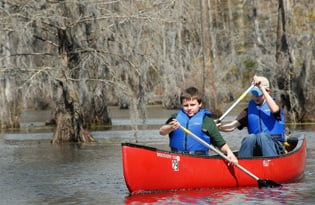 North and South Carolina are well-known for the beautiful sandy beaches along the Atlantic and the majestic Blue Ridge Mountains to the west, but the Carolinas are also home to 88 state parks with a variety of unique activities and programs for all ages.
In addition to camping and hiking, families can explore 17th-century Charleston, observe bald eagles, learn about aquatic life along our coastline, view a re-enactment of a Civil War battle and a lot more. Here's a small sampling of the many great choices available in the Carolinas.
In North Carolina, most parks and interpretive programs are free, unless otherwise noted. Some parks do have parking, camping, and facility/equipment rental fees. Complete park information, including upcoming events, can be found at ncparks.gov.
Fort Macon State Park, Atlantic Beach
As you head to the beach this summer, learn about the Battle of Fort Macon during the Civil War at one of the most visited state parks in North Carolina. Enjoy summer concerts, musket-firing demonstrations and children's activities on Saturday and Sunday.
ncparks.gov/Visit/parks/foma/main.php
Jordan Lake State Recreation Area, Apex
C.A.S.T. Catch a Sure Thing! Designed for kids ages 6-12, C.A.S.T. is a program led on the dock behind the Visitor Center on Saturdays through June and September and October from 9:30 to 11 a.m. Adults are on hand to help put worms on the hooks and take off the caught fish. Kids get a chance to learn about the fish before its released back in the lake. Typical catches include blue gill, grim, crappie and bass.
Canoe Hike. All skill levels are welcome as rangers lead groups on a paddle trip on one of three creeks: Robeson, Weaver and Beaver. Trips are for children ages 10 and up; younger children can participate with a parent paddler. Times and dates vary. Check the event calendar for more information. Advanced reservations required.
Bald Eagle Observation. "Jordan Lake has a large number of bald eagles," says Ranger Steve McMurray. "We currently have seven nesting pairs." Visitors are encouraged to visit the Observation Deck on Martha's Chapel Road to see if they can sport an eagle. "Every time I've been out there, I've always seen an eagle," says McMurray, who admittedly says it can take up to two hours. But there are plenty of waterfowl to check out while you wait for an eagle to wing by.
Admission: $6 parking fee per day, $15 bus/van fee per day, charged daily Memorial Day through Labor Day and weekends/holidays in April, May and September.
ncparks.gov/Visit/parks/jord/main.php
Merchants Millpond State Park, Gatesville
Basic Kayaking. Coastal pond and southern swamp meet to create Merchants Millpond State Park, home to bald cypress trees and primitive fish species. Learn to kayak in this unique park. Classes are offered one Saturday each month. Children must be accompanied by an adult. Dates vary, and advanced registration is required. Canoe trips also offered.
ncparks.gov/Visit/parks/memi/main.php
SOUTH CAROLINA
South Carolina Parks have admission fees, which are usually under $5 per person for basic services, and under $10 for tours and living history sites. There might also be additional fees for parking, camping and facility/equipment rentals. Visit southcarolinaparks.com for more information.
Charles Towne Landing State Historic Site, Charleston
Learn what it was like to live in the late 1600s in Charleston by visiting this living history site. In addition to the 12-room interactive museum, you can also visit the Animal Forest and see live animals native to Charleston at the time, like bear and bison. Make sure you take time to visit the Adventure, a replica 17-th century sailing ship. Additional activities are scheduled on Saturdays: First Saturday of the month has musket demonstrations, third Saturday has cannon firings, and the fourth Saturday is Crafts for Kids day. Second Saturdays host a special event each month, like archeology or maritime history. The complete schedule is available online.
Admission: $7.50 adult; $3.50 child age 6-15; Free for children 5 and younger.
Myrtle Beach State Park, Myrtle Beach
If you're looking to enjoy the Grand Strand without the crowds, lazy rivers and mass tourism, hit Myrtle Beach State Park. In addition to the usual frolicking in the waves, this park has great programming for kids. Kera Hebert has been bringing her kids here for years; Emily, 10, has been taking part in their programs for the last five years, and her brother James, 6, has been enjoying them for three years.
"The programs are great," says Hebert. "There's a focus on the sea turtles and protecting them. One year the ranger got a call about a nest needing to be relocated, and we were all allowed to follow her and watch the process."
The park has a patch program kids can take part in. When kids attend three programs and complete the activities, they earn a patch. When they complete nine programs, they become a Habitat Hero and earn a pin. See website for complete summer schedule. Prices vary per program and can be found online.
Turtle Scene Investigation. Investigators arrive at the crime scene and are charged with figuring out if a crime has been committed against the sea turtle. What kind of turtle lived at the nest and what happened? Held Thursdays from 9:30 to 10:30 a.m. June 7 through Aug. 30 for ages 8 and up.
Be a Pier Scientist. Pier Scientists use real laboratory equipment to conduct science experiments on the pier. $3.
Crabby Experience. Crabby kids can't stay grumpy for long when they're on the pier. "Basically, we're catching anything we can off the pier," says Ann Wilson, interpretive ranger. "We see a lot of stuff come up, and we hope we catch something the kids can pass around and touch, like a cannonball jelly. There are lots of jellyfish you can touch and hold." Held Tuesdays from 9:30 to 11 a.m. June 5 through Aug. 28. $5 trap rental; bring your own bait or buy some on the pier.
Seine-Sational Fun. Kids will have a sensational time pulling a seine net through the surf zone and seeing what kinds of fish and crabs they can find. Children under 13 must be accompanied by an adult. Held Fridays 9:30-10:30 a.m. June 8 through Aug. 31.
Admission: $5 adults; $3 ages 6-15; Free for children 5 and under.
southcarolinaparks.com/myrtlebeach
Kim Justen is a Triad-based freelance writer and mother of two.