5 Easy Ways to Shop Healthy at the Grocery Store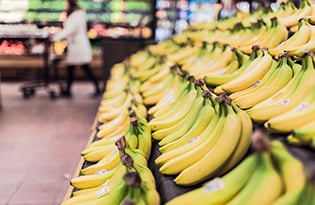 Remember when visiting the grocery store was an adventure? Meandering through the aisles with recipe in hand, reading labels and being excited to bring home exotic items to try. With the demands of a family, the grocery store run can be more of a mad dash with kids in tow. Crucial menu items are often forgotten while other unnecessary and, sometimes, unhealthy ones are added to the cart (sometimes when you are not looking).
I recently toured Publix and Healthy Home Market in search of an easier way to shop for healthy food. Below is what I learned along the way.
1. Think before you shop
Come prepared and know what is in your pantry. Making a list based on a meal plan for the week is by far the best way to provide healthy meals for the family, as well as save time and money in the grocery store. There are many apps available, but most grocery stores offer free online tools for recipe planning and ingredient lists.
2. Try something new
Introduce ancient grains like quinoa, bulgur wheat and spelt berry to your everyday meals. These grains can help to prevent cancer, heart disease and high blood pressure, and are more easily digested, high in fiber and protein. "These grains take the place of rice, pasta or potatoes and take on the taste of whatever else is in the dish," says Mike Crow, store manager in training at Healthy Home Market. Most grocery stores carry the more popular ancient grains. If unsure where to find them in the store, simply ask.
3. Shop the perimeter
Typically fresh fruits and veggies are in the produce section in the front, or to the left or right of the store. If you are trying to eat healthier, most of your purchases should come from these areas. Start substituting fruit, nuts and vegetables as snacks rather than the cookies, crackers and pre-packaged snacks you find in the middle aisles.
4. Plan for the worst
No matter how hard we try, busy lives usually lead to at least one fast meal being needed at during the week. Try these ideas for fast meals from the grocery store rather than the fast-food stop:
• Many grocery stores offer hot and ready rotisserie chickens, fresh salads, soups and sandwiches. Publix offers prepared kid's meals for about $4 that include organic milk, fruit or veggie, sandwich or wrap and a healthy snack. Healthy Home Market has ready-made meals available for vegan, vegetarian and even low calorie ice cream when you need a quick dessert.
• Although buying already cut fresh fruits and veggies cost more, they are a time saver and are a healthier, less expensive option to eating out. Much of a recipe's prep time is spent on cutting the vegetables and fruit.
• Keeping frozen fruits and vegetables on hand can make for easy and nutritious additions to a main course. A bag of frozen peas and carrots can be added to stir fry or pasta in a flash.
• For a quick run to the store for dinner, many stores offer a refrigerated case with all the ingredients for a quick home-cooked family meal. Publix features two new recipes a week with all ingredients in one location. In addition, dozens of other recipe cards with ingredient lists are available in the store for free.
5. It's about more than just groceries
To meet the changing needs of their customers, grocery stores are providing many more resources. Healthy Home Market offers free and low-cost classes on topics such as wellness, tai chi and living gluten- and allergy-free. Tune into 103.3FM every Sunday morning for Healthy Home Hour on from 9-10 a.m.
Vanessa Infanzon is a freelance writer from Charlotte. When she is not chasing three boys or training for her second half marathon, she writes at especiallyben.com.