5 Dorm Essentials for College-Bound Teens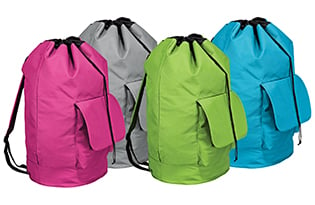 For some teens, leaving home to go to college hundreds of miles away can be daunting. For others, being on the other side of the country is one of the best things that could happen them. Either way, it's important to be prepared. Here are five essentials that every college-bound teen needs to survive four or (cover your ears mom) more years.
1. Laundry backpack.
Taking more than one trip to the laundry mat in the dorm can be a hassle. A backpack filled with your clothes is convenient and definitely an essential for easy living. Laundry backpack, $19, dormify.com.
2. A computer tablet.
Nowadays, taking notes and keeping up to date with deadlines and projects is all based through technology. There's an app for everything with this tablet, allowing your teen access to organizational tools that will help him or her succeed. Apple iPad Air, starting at $499, apple.com OR iPad Mini, starting at $399, apple.com.
3. Wireless speakers.
A great study session isn't the same without some great music. The thing about wireless speakers is that you can bring them anywhere and sync your phone's music to a personal jukebox. Jawbone Mini Jambox, $179, jawbone.com.
4. Tool kit.
It may not seem like it, but this essential is by far the most under appreciated. This just- in-case kit is great for assembling pictures, placing hooks and other neat décor. Necessities Tool Kit by Picnic Time, $37, dormsmart.com.
5. Wall décor.
Walking into a dorm room can sometimes feel like anything but college. Cover up those boring walls and fill them with your personality. Using photos, word decals and awesome print art gives a new college student's space personal character. Jonathan Adler Lanterns Decal Kit, $42.99, dormify.com.
Read More:


College Planning Resources