5 Books and Games to Ease Into the School Year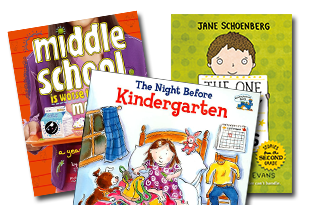 Pick up these books to help children adjust to the new school year, as suggested by Emily Nanney, children's services coordinator at Charlotte Mecklenburg Library, plus two bonus game suggestions.
"The Night Before Kindergarten" by Natasha Wing (2014)
Told in traditional rhyme format, Wing shares how children might feel before starting kindergarten. Colorful illustrations depict children getting ready for school, saying goodbye to parents, and enjoying circle time. It doesn't take long for the class to learn how exciting school can be with books, music and play time. Families are sure to enjoy other rhyming books in this series about starting preschool and first-grade.
"The One and Only Stuey Lewis" by Jane Schoenberg (2011)
Stuey Lewis is worried about starting second-grade and that his secret of being a struggling reader will be discovered. Stuey doesn't want his teacher, classmates or especially his best friend, who is a voracious reader, to learn his secret. It is almost too much to deal with when Stuey's teacher announces that the second-grade class is going to have weekly reading buddy sessions with sixth-graders. With the help of an empathetic teacher and caring friend, Stuey is sure to conquer second-grade.
"Middle School Is Worse Than Meatloaf: A Year Told Through Stuff" by Jennifer Holm (2007)
Ginny is starting seventh-grade and she has lots on her to-do list, such as finding a new dad, winning back her best friend, and seeing her grandfather on spring break. Seventh-grade is going to be a challenge, but Ginny is up to writing papers, making lists and dealing with her family. This story, laid out in a journal and scrapbook format, makes for a quick read for upper elementary students. Readers may want to check out other books in this school series by Holm.
The Magic School Bus Math Explosion
Math is a not always a blast, but with this game, it is! The Magic School Bus takes a mathematical quest to an active volcano ready to spout colorfully fun lava and equations galore. This game is aimed for ages 5+ and is a perfect refresher for kids who are headed back to school. It's an explosion of fun! $29.99
Are You Ready For Kindergarten?
This quiz game show is an exciting and interactive way to test whether your child is ready for kindergarten. Your child answers questions and receives pretend cash for each question correctly answered. After the game, parents can go online and enter the questions their child missed, showing areas where help is needed. This online service even offers activities that can help strengthen these skills. Even if your child isn't quite ready for school, this fun game can help them prepare. $29.99
Read More:


How to Handle Back-to-School Jitters