5 Apps for Kids with Special Needs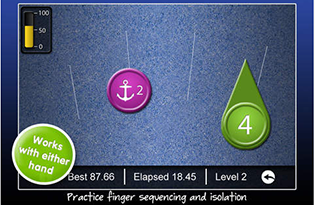 1. Dexteria
Dexteria is a set of therapeutic hand exercises (not games) to improve fine motor skills and handwriting readiness in children and adults. Dexteria's unique hand and finger activities take full advantage of the multi-touch interface to help build strength, control, and dexterity. $3.99, iTunes.com.
2. Talk Tablet
TalkTabletNEO, with 3 US English NEOSPEECH voices and 1 Latin American voice (adult only), is a fully-featured AAC speech solution for people who are unable to communicate clearly as a result of Autism, Aphasia, Down Syndrome, Stroke, Laryngectomy or other condition that adversely affects a persons ability to speak. $79.99, iTunes.com.
3. Hidden Curriculum for Kids
Flash card-style education app designed for people with Autism Spectrum Disorder (ASD) to help teach social skills. The app contains several dozen flash cards with practical, real-life scenarios and explanations of how to make good choices for many different social situations. The app can also prompt conversations to help kids and teens with ASD learn coping skills and problem-solving techniques. Favorite social tips can be shared by email or stored in-app for future use. $1.99, iTunes.com.
4. Splingo's Language Universe
An exceptionally high-quality, interactive game designed by Speech and Language Therapists/Pathologists to help children learn listening and language skills. $2.99, iTunes.com.
5. Bugs and Buttons
Bugs and Buttons is a uniquely styled collection of games and activities that are entertaining and educational. The app goes beyond simply great graphics and beautiful music by engaging children through intriguing game play that progressively adapts to their skill level. Designed to be self paced, each activity offers simple visual instructions. Offering two play modes, children can choose to be automatically guided or explore and play. $2.99, iTunes.com.
— care.com