4 Ways to Enjoy the Outdoors This Fall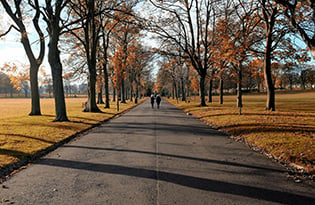 Fall is a beautiful time to enjoy the great outdoors. Here are four ways your family can get out and get active.
1. Go to a park.
Mecklenburg County boasts more than 200 county parks, city parks and public swimming and tennis facilities within its borders, and 37 miles of paved greenways. Check out this year's GPS (Go Play See) resource guide for more locations and ideas.
2. Encourage outdoor play with friends.
The Nature Conservancy's poll showed that 91 percent of kids said if a friend encouraged them to spend more time outdoors, they would listen. Playing outside with the neighborhood kids is beneficial for your child's social development, teaching them skills they'll use with future relationships later on.
A tip from Len Saunders, best-selling author and motivational speaker in the fight against childhood obesity: Incorporate playtime into your child's after-school routine. When kids get home from school, a routine is important to establish a balance of homework, playtime, nutrition, and technology. A child who does not get out and play regularly, he cautions, is more likely to engage in a sedentary lifestyle later in life.
3. Teach your child about nature.
An interest in nature will spur a curious child to explore the outdoors and learn about the world around them. Also, a child who loves nature will likely be more passionate about protecting it.
4. Landscape your yard to increase natural window views.
Access to or views of nature improve cognitive function and have shown to improve recovery from surgery or illness in hospitals, according to a 2010 study by Cornell University. Consider supporting plans to create space for parks and natural areas near or within residential areas, and plans to increase walkability within neighborhoods and developments.