4 Ways To Create A Healthy Food Culture In Your Home
Creating healthy food habits for your children can build the framework for an entire lifetime of healthy eating habits.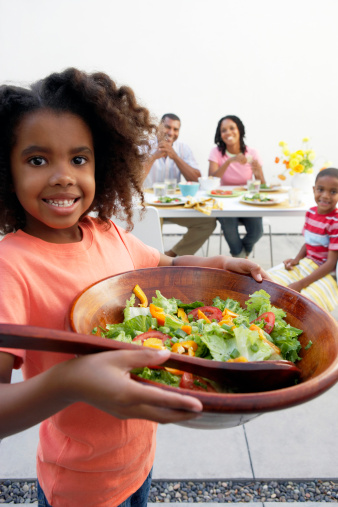 What is your family's food culture? Food culture is passed along from generation to generation, and is shaped by your day to day food habits and attitudes about food. Food preferences are largely influenced by factors such as heritage and ethnicity, childhood experiences with food, and social-economic factors. For example, if you're of Italian heritage, you may have a lifelong preference for pasta. If you have Southern roots, you may have an affinity for greens and beans.
Children mirror what they see in us, but they are also being influenced by the food industry to choose candy, sugary drinks, and highly processed foods in place of foods from nature. By creating a positive food culture in your home, you are shaping your children's future attitudes toward foods, instead of letting society's food culture misguide them. It's never too early to teach your children the value of choosing nutrient dense whole foods over highly processed junk foods.
Here are a few tips in creating a healthy food culture in your home:
1. Start early.
Expose your child to a variety of flavors, textures and experiences related to food. Visit local fresh markets, plant your own garden, or enjoy an afternoon of strawberry picking.
2. Have fun in the kitchen.
Kids love helping with food preparations. It's also a great way to expose them to different types of foods, textures and smells. Kids who feel comfortable around food may have a greater willingness to try new foods.
3. Family meals.
Shared meals not only set the stage for a healthy plate, but research shows it can also enhance social and academic confidence as well. Remember, it doesn't always have to be at the kitchen table, you can plan fun and games with a backyard barbeque, campfire or gather the family around to enjoy some fresh summer watermelon on the front porch.
4. Avoid food battles.
Remember slow and steady wins the race. Your job is to be a role model for healthy eating habits and to offer a variety of healthy food options to your child. Visit jamieoliver.com for more fun ways to teach kids about healthy food choices.
---
Tricia Azra is a registered dietitian nutritionist, and has been practicing nutrition in the North Carolina region for 19 years. Azra is excited to mentor the Howe and Hill Spotlight Families for the Fit Family Challenge.