4 Things to Look for When Buying Her First Bra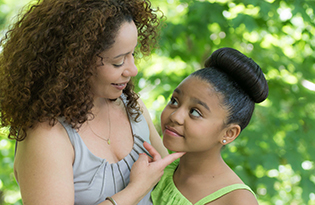 A girl's first bra is a rite of passage for both her and her parents – and one that's occurring at younger and younger ages. For some girls, it's a turning point fraught with anxiety; for others, it's a celebration. Either way, parents have a hard time ensuring their daughters to have good memories of shopping for and wearing their first bra.
"Trying on your first bra in a big discount retail store can be unnerving for an 8- or 9-year-old who may already feel shy about the experience," says Kelly O'Brien, a lingerie specialist whose experience with young customers led her to launch LingerTween, the first ecommerce site dedicated to undergarments for tweens. "And those stores have limited selections, both in sizes and styles."
The average Caucasian girl now enters puberty, which is marked by breast development, at 9.7 years old – about 4 months younger than just 17 years ago, according to an ongoing study as part of the Breast Cancer and the Environment Research Program. For black girls, the age is 8.8 years and the number of girls developing breasts in first grade has tripled since 1997.
"Another choice is shops like Victoria's Secret, a place most parents don't feel comfortable taking their young daughters to shop," O'Brien notes.
But there are options. Once you've found a comfortable place to shop with a good selection of choices, O'Brien offers these tips for ensuring your daughter is comfortable and happy in her first bra.
---
1. One size does not fit all.
If your tween is average sized, bras labeled "one size fits all" may work. If you're looking at bras with cup and band sizes, you'll need to measure. For the band size, wrap the measuring tape around your daughter just under the breasts, where the band sits. Add 5 to that number, and that's the size. (Tape says 23 inches, band will be 28 inches.) For cup size, measure around the fullest part of the chest and subtract that number from the band size. The difference is the cup size – 0 to 1 inch is an A; 2 inches is a B.
---
2. Check the strap length.
Straps are very important to consider for fit — especially if your tween is petite. If the strap is a traditional adjustable strap, such as those on most women's bras, be sure it can be shortened sufficiently. Elastic or stretchy straps are usually a safe bet.
---
3. Consider a lined bra – it's not about making her look more developed than she is!
Generally speaking, tween padding is not meant to increase cup size. If a tween bra appears to have some padding, it's typically a thin layer of foam used to smooth over the nipple area so nothing is visible under the shirt. It's a modesty measure that also helps some girls feel less self-conscious.
---
4. Camisoles and sports bras are popular options for shy girls who worry a bra will call attention to them.
A short or full-length camisole provides a bit of coverage and isn't as noticeable under a blouse. For the same reason, some girls like to start with bras cut in a sporty style that don't feel like a traditional bra.
"In my shop, girls will come in with their mother and often their grandmother – buying that first bra is a big deal!" O'Brien says. "This is a rite of passage for everyone involved, and we can make it an experience that's fondly remembered decades later."
---
Kelly O'Brien is the owner of Linger, an upscale lingerie shop, and blogs about lingerie at ShopLinger.com. A former teacher, digital marketing executive, adjunct college professor, and part of the team that launched glossy.com, the first website for teen girls, O'Brien founded LingerTween, (Tween.ShopLinger.com), to address a glaring marketplace absence.