4 Things to Know: Girls On The Run's 5K Celebration
The event arrives at Whitehall Corporate Center on May 15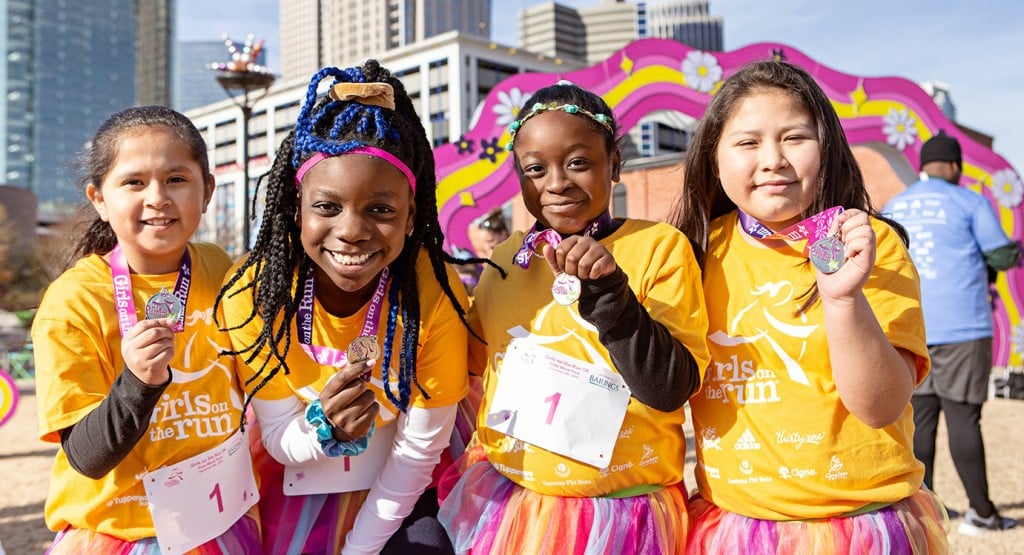 Girls on the Run Greater Charlotte is a nonprofit dedicated to "creating a world where every girl knows and activates her limitless potential and is free to boldly pursue her dreams." The girls who go through the group's programs—which blend physical activity, cooperative projects, and other activities that build confidence and self-worth—are celebrated at this spring 5K. Arriving on May 15, the event is held at Whitehall Corporate Center (3701 Arco Corporate Dr.). More than 1,000 girls will cross the finish line with their running buddies, and more than 2,000 attendees are anticipated this year. You can register here before May 10, and you can find out much more about the festival below:
1. The Cause. Girls on the Run was formed in Charlotte in 1996, eventually evolving into an international effort. Programs include Girls on the Run (grades 3-5) and Heart and Sole (grades-6-8), among others. Girls on the Run Greater Charlotte itself serves Mecklenburg, Gaston, Cleveland, Catawba, and Cabarrus counties. (Full breakdown of schools represented here.) Over 10 weeks, the seasonal courses see trained coaches leading girls through interactive lessons and running activities. Each spring session ends with this 5K.
2. The Race. All are welcome to join the race, which is non-competitive, on May 15. There are two age levels: one for adults (16 years and up) and one for youths (6-15 years old). Depending on when and where you sign up and your age, registration ranges from $20 to $40 (including a day-of option). All runners will receive a 5K T-shirt and finishers medal.
3. The Schedule. On the day of the race, participants arrive at 8:30 a.m., with festivities beginning at that time—including vendors and warm-up music. (That timeslot is also the last chance to register for the races.) The actual race begins at 10 a.m., and the festivities keep going until noon that day.
4. The Other Details. Below, check out a complete sign-up schedule:
Online Registration (through 05/10)
Adult (16 years old and up) $30.00

Youth (6-15 years old) $20.00
In Person at all Packet Pick-Ups (05/12 and 05/14)
Adult (16 years old and up) $35.00

Youth (6-15 years old) $25.00
Day of 5K (05/15)
Adult (16 years old and up) $40.00

Youth (6-15 years old) $30.00
For more information about the Girls on the Run organization and its 5K Celebration, head here. Sponsorship opportunities are still available; contact Monica Carr at mcarr@girlsontherun.org if interested.