4 Ingredients Needed to Succeed in the Fit Family Challenge
The Howe family shares their recipe for success.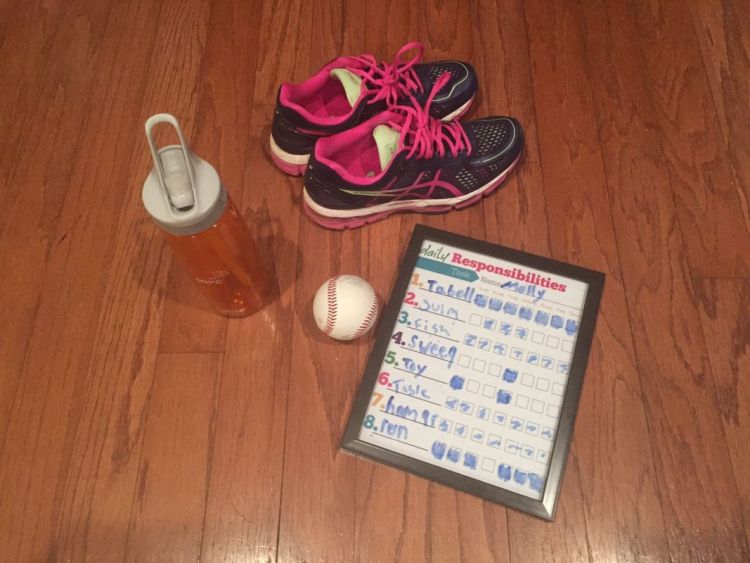 Over the weekend I asked Todd how he thought we were doing on the Fit Family Challenge. Are we being successful? He didn't hesitate to say, "Yes." He pointed out that our eating habits have significantly changed, and our activity levels have increased. He also mentioned that we were being more intentional with our journey to be healthy. I agree with him, though I wish the number on the scale was going down faster.
Our conversation got me thinking about the recipe we are following as a family. This is a pretty exact recipe, as I am very good at following directions. I once called my mom to find out what exactly a pinch of salt meant, and I definitely remove the egg shells from the muffin batter. I don't vary much from the directions in a recipe. Only on occasion when I feel like throwing caution to the wind, do I throw something together from what is left in the fridge. That is also when I have the number handy to the pizza place down the street, just in case.
So here it goes – the Howe Family recipe for success in the Fit Family Challenge. There are four essential ingredients, all of which can be found within yourselves and your family members.
1/4 Nutrition

1/4 Exercise

1/4 Passion

1/4 Plan
Stir these ingredients together as a family and you get success.
Since his unfortunate injury and hospital stay, Todd has showed us how important nutrition, which includes hydrating your body, is to being healthy. He has pretty much had a water bottle in his hand for the past month, as the water has been helping him flush the toxins from his body. He is also the one in the family that has been reading labels. Just yesterday, on a trip to BJs he carefully scanned the aisles for the right items, not the popular ones. He is in charge of dinner tomorrow night and has promised us steak tacos with a side of fresh pineapple. No more nachos made from Velveeta and that is okay.
Tyler shows us how passion can drive success. I am not exaggerating when I say he could bounce and throw a ball before he could walk. His passion is playing baseball. He has an intensity that is unmatched. Whether up at bat, on the pitching mound or in his happy place in centerfield, he is focused on the task in front of him – hitting doubles, stealing bases, throwing strikes and making diving catches. His passion for the game, along with all the practice he puts in, including throwing balls against the pantry door, have allowed him to play up for his age. He doesn't know how good a ball player he really is and I hope that continues.
Molly is our planner. She likes to know what is going to happen and when. As soon as she woke up Sunday morning, she asked if we could go to the pool. We said maybe. She didn't like the answer so she waited a couple of hours and tried again with, "Is there a plan for the rest of day and does it include swimming? I would just like to know." She has created a responsibility chart for the challenge and keeps a schedule of her t-ball, swim practices and what nights we should walk to the park. She also tracks her chores which include setting the table, feeding the fish and putting her clothes in the hamper.
I have been focused on exercise. Monday through Friday I get up at 5 a.m., put on my workout clothes, including socks that are sometimes mismatched because they were put on in the dark and I head to 5:30 a.m. Burn Boot Camp. I am a little hesitant to say I love it, but I tolerate it well and miss it if there is a day I can't go. I guess that means I may love it. The early morning workouts help start my day off right and my energy level is higher than ever. I now know the difference between mountain climbers and crickets, and between burpees and jump squats. I can run laps around the parking lot without losing my breath and I can hold a plank for a couple of minutes. I have also come to value deodorant, sports bras and dry-fit shirts. Just the other day I asked, "Who is this person in the mirror and do I actually like her? The answer is, "Yes, she is OK."
Working together as a family, we have combined better nutrition habits with moving more, added the two p-words – passion and plan, and have come out with success. There may also be a secret seasoning that I failed to mention earlier in the ingredient list – support. It is more than a pinch or a dash. The support from the Fit Family Challenge experts and our family and friends has been tremendous. We couldn't do this without them as our cheerleaders. They truly are the secret ingredients!
What is your family recipe for success?
---
Jennifer Howe and her husband Todd, and children Tyler, 9 and daughter Molly, 6, are participating as one of our 2016 Fit Family Challenge spotlight families. Learn more about their healthy family journey here, and follow along with Jennifer as she updates us this Spring and Summer in the Fit Family Challenge Blog.