4 Ideas for Indoor Exercise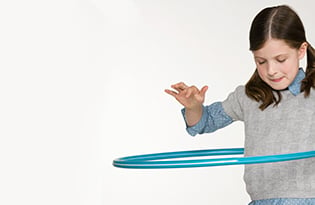 The temperature may have dropped but that doesn't mean your heart rate has to. Incorporate a few of these fun exercises from the Kids Making Healthy Choices app into your family's daily routine to keep active on frosty days better spent inside.
1. Dance
Turn on your family's favorite music and jump around for an easy and fun way to burn calories.
2. Hula Hoop
Make sure everyone has enough space to do this exercise. Make it challenging by seeing who can keep their hula-hoop around their waist the longest.
3. Shadow Boxing
This can be a great full body workout to get your heart pumping. Kids can make this fun by "shuffling and ducking" as if they are in a boxing ring.
4. Yoga
Practice balance and strength through fluid motions that even the kids can enjoy.
Find more tips at CharlotteParent.com/wellness.