4 Fun Accessories for Mom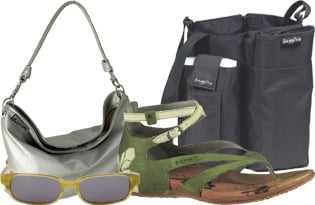 Further Than the Eye Can See
When it's time for a new pair of sunglasses, treat yourself to some chic shades and do a bit of good at the same time. Amy Sacks' eyewear is exceptionally handcrafted and priced within reason, and the frames are constructed from bamboo, resulting not only in style but sustainability, too. Plus, each pair comes with a lifetime warranty and profits support the Pixie Project (www.pixieproject.org), which helps to provide homes for animals, as well as assist with training, spaying and neutering.  Find for $50-$155 at www.amysacks.com.
Get Caught Redhanded
With a modern take on traditional styles, Redhanded handbags are making an eco-friendly splash in the marketplace. Created by a hip N.C. mom, these bags are made from non-PVC and VOC-free vinyl and are lined with lovely organic cotton, bamboo and hemp fabrics. Try the tote or messenger styles for carrying the mother lode, or a clutch for just the essentials. Being eco-friendly never looked so good! Find for $30-$167 at www.redhandedbags.com.
A Whole Lotta Sass
If you stay active, but you don't want to sacrifice style for function, then you'll love Lotta sandals from Merrell. The two-toned, gladiator-style sandals are breathable, as well as waterproof, making them great for lots of sightseeing or short hikes with the kids. And these vegan-friendly sandals look great with shorts or a skirt. At www.merrell.com for $80.
Quick Change
All diaper bags are not created equal. The Baggino Junior includes a changing pad and has all the requisite pockets for diapers, wipes, bottles, etc. Yet, the beauty of this lightweight bag is that it converts from a messenger-style bag to a hands-free changing belt, giving you everything you need within arms reach. Keep your diaper bag off unsanitary airport floors and have easy access to all the essentials while you change your baby. The Baggino Junior, available in black and lime green, is perfect for travel. Find it at www.Baggino.com for $49.
Compiled from excerpts of One Chic Mama by Michele Little as published in Charlotte Parent magazine.