3 Simple Summer Popsicle Recipes
Beat the heat with a fast and fun summer treat that you'll feel good about making and eating.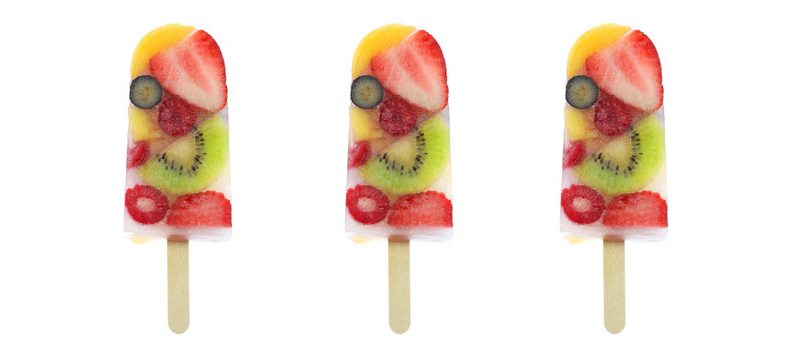 It's SO hot outside! This summer heat isn't going away any time soon. The best way to beat the heat is to cool down with something delicious and fun – popsicles! It is incredibly easy to make your own and tailor the treats with your favorite flavors. Making popsicles yourself also allows you to have more control over the nutrition and specifically sugar content. Let's be honest, those plastic packages with colored water waiting to be frozen in the supermarket are a little scary (have you checked out the ingredient list?).
The prep time is minimal and homemade popsicles can freeze overnight for a simple next-day treat. Popsicles also make a quirky after dinner dessert for a chic party. Each recipe below is a suggestion – add or substitute any fruits or juices you like. Popsicle molds may be purchased at any dollar or discount store at a minimal cost. Get the kids involved and they'll be excited to gobble up their creations!
---
Tooty-Fruity Popsicles
(Makes 6 Popsicles)
1 Cup Red or White Grape Juice (you may also sub orange or another juice)
½ Cup Water
½ Cup Blueberries
½ Cup Sliced Strawberries
½ Cup Sliced Peach or Nectarine
1-2 Kiwis Sliced
Place the fruits into the popsicle molds. The slices need to be firmly in place in the mold. Combine the juice with the water (you may use straight juice; I add water to lower the sugar content). Place the lids on the mold cups or add popsicle sticks into each one. Freeze overnight.
---
Southern Peach Popsicles
(Makes 6 Popsicles)
3 Cups Ripe, Peeled Peaches
2 TBS Brown Sugar or Honey
Puree 2 cups peaches in blender or food processor. Add Sugar/Honey once puree is smooth. Add remaining cup of peaches and pulse a couple of times for the peaches added to be chopped but not pureed (you want chunks in the mixture). Pour mixture into popsicle mold and place lids or sticks on top. Freeze overnight. This recipe also works well with nectarines, strawberries, watermelon, or berries of your choice.
---
My Personal Go-To Snack
(Makes 6 Popsicles)
1 Cup Orange Juice or Red Grape Juice
Pour the juice into the popsicle molds and place lids or popsicle sticks on top. Freeze overnight. This is one of my favorite summer snacks, especially when I'm craving a sweet snack with a low fat content. Sometimes, I'll eat two!