3 Must-Visit National Parks Within A Day's Drive
As the National Park Service celebrates its centennial, now's the time to visit a nearby national park.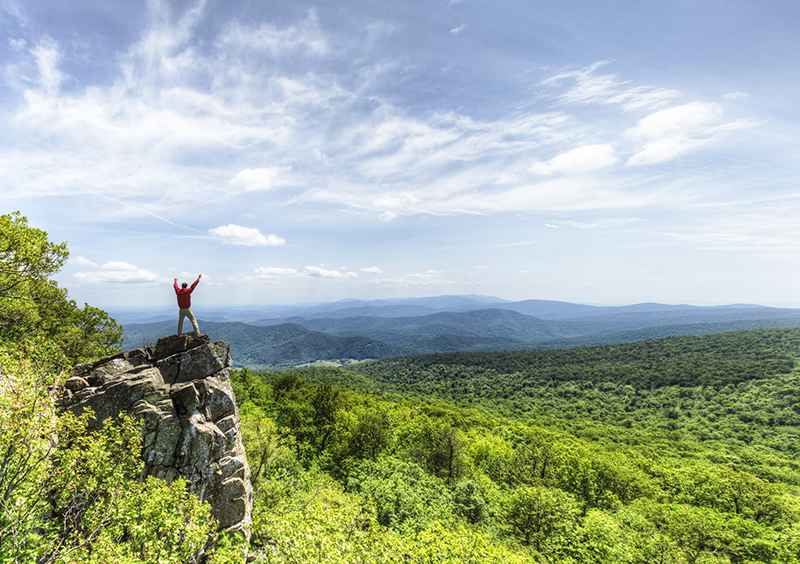 A park ranger once said, "The National Park Service is the only federal agency whose sole objective is to make people happy." Since there are 410 "park units" to manage — ranging from parks to monuments to cemeteries — ensuring visitors' happiness is a massive undertaking.
The National Park Service celebrates its centennial this year, so you might be thinking of commemorating this milestone by visiting one of the 59 national parks collectively located in 27 states, plus the territories of American Samoa and the United States Virgin Islands. There's a lot of publicity surrounding the centennial, so do yourself a favor and plan ahead.
Lodging on national parks is sparse and books up quickly for the summer high season, leaving visitors little choice but to take a package tour if they want to spend quality time in the park. Tour operators buy rooms in bulk a few years in advance, but even they may not have much inventory for the more popular parks like Yellowstone and Grand Canyon.
Campsites are more plentiful. If your family enjoys camping, your chances of finding a place on or near a national park are much better. Begin by visiting the National Park Service website at nps.gov/findapark. Select a park, then look for "Plan your visit" on the left sidebar to see what's still available. Some will be first-come, first-served sites. The park service also lists nearby campgrounds.
Kampgrounds of America (KOA) sites are frequently located near national parks. They usually offer cabins with varying creature comforts. Some are basic, requiring you to bring your own linens or sleeping bags, while others are deluxe and include linens, a kitchen and cable TV. All KOA campgrounds offer swimming pools and playground equipment, and many offer a great deal more, including transportation to and from parks.
The good news for North Carolinians is there are three national parks close by, giving us more options for lodging an hour or so away in familiar territory.
---
1. Congaree National Park
Kayaking at Congaree National Park.
NPS Photo
---
Congaree National Park, just southeast of Columbia, South Carolina, is the most recent park to gain National Park Service designation. What started out as a national monument is now the Southeast's largest tract of bottomland floodplain forest.
The trees are the stars of this park. They provide a home to more than 1,200 species of moths and nearly 200 species of birds. There are five backwoods trails and a 2.5-mile boardwalk through an old-growth forest. The visitor center is a great place to get acquainted with the flora and fauna.
Each Friday-Sunday, Congaree National Park offers guided programs. Plan on taking a free canoe tour of the park, courtesy of the park service and private companies. Reservations are required. Book your canoe tour at least a month in advance at nps.gov/cong.
Congaree is celebrating South Carolina's birds May 20-21 with its Wings Across South Carolina BioBlitz. This biodiversity event features exhibits, hands-on activities for kids, special programs, and the opportunity to work with scientists to identify birds and collect data. No need to preregister; simply show up and have a great time.
---
2. Great Smoky Mountains National Park
---
More than 10 million visitors visit Great Smoky Mountains National Park each year. It's the most-visited park in the entire system, encompassing 522,427 acres in North Carolina and Tennessee. Entire books have been written about Great Smoky Mountains National Park. Here's a summary of what visitors can experience there.
Most North Carolinians enter the park in Cherokee and are greeted by the Oconaluftee Visitor Center. Hundreds of small farmers and a handful of large timber and paper companies owned the land that became Great Smoky Mountains National Park. As a result, the park accommodates one of the most impressive collections of log buildings in the eastern United States. More than 90 historic structures — houses, barns, outbuildings, churches, schools and gristmills — have been preserved or rehabilitated in the park. The Mountain Farm Museum at the Oconaluftee Visitor Center contains a fascinating collection of these log structures. Demonstrations of farm life are conducted each season, and the park service has designed them with children in mind.
Cades Cove is the place to view wildlife, such as white-tailed deer, black bears, coyotes and turkeys. Located close to Townsend, Tennessee, the Cove is a broad, verdant valley surrounded by mountains and is one of the park's most popular destinations.
An 11-mile, one-way loop road circles the cove, but beware: Allow at least two to four hours to tour Cades Cove — longer if you plan to hike some of the area's trails. The crush of traffic in the summer can extend the loop tour to a full day. Avoid weekends and consider a visit at sunrise to beat the crowds. Only bicycle and foot traffic are allowed on the loop road until 10 a.m. each Saturday and Wednesday mornings from early May until late September. Rental bikes are available at the Cades Cove Campground Store.
Ranger-led programs in Great Smoky Mountains National Park are plentiful. Children ages 5-12 can enjoy the Junior Ranger program offered at all National Parks, and at Great Smoky National Park, ages 13 to 130 can participate in the "Not-So-Junior Ranger" program.
The Great Smoky Mountains Institute at Tremont, a year-round residential environmental education center, offers a variety of fee-based programs such as summer camps, school programs, family camps and naturalist workshops.
---
3. Shenandoah National Park
---
Located in southwest Virginia, North Carolinians enter Shenandoah National Park at Rockfish Gap near Waynesboro, Virginia. If you've ever traveled the Blue Ridge Parkway to its northern terminus, you're about 100 feet from Rockfish Gap.
Shenandoah National Park claims one of the largest concentrations of black bears in the United States. Bobcats live there, too. There are loads of hikes and waterfalls to choose from. If you want to add some adventure to your visit, take a horseback trail ride through the park. Starting in May, join in one of the guided twilight hikes far above the light pollution for a clear view of the evening stars.
Kids to Parks Day, a nationwide day of outdoor play organized by the National Park Trust in cooperation with a host of local and national collaborators, takes place May 21 this year, a week before the official start of summer vacation season. At Shenandoah National Park, children can meet live animals and learn about rehabilitation work taking place at the Wildlife Center of Virginia. Enjoy talks and guided activities throughout the day at the Byrd Visitor Center (mile 51). The Junior Ranger program for ages 7-12 also will also be in full swing.
Even if you can't stay and play, enjoy 75 scenic overlooks on Skyline Drive, which runs through the park for 105 miles along the peak of the Blue Ridge Mountains.
---
Tamela Rich is an award-winning author, storyteller, adventurer and mom. Known as the "American Road Trip Expert," she is passionate about sharing tips on transformational experiences for every member of the family. Her motto is to "Pack Light. Travel Slow. Connect Deep." For more information, visit TamelaRich.com.
---
12 Popular National Parks for Families
The National Park System doesn't rate or rank national parks for "family friendliness." Do a web search for "best national parks for kids" and "top national parks for families" and you'll find articles that blend different "park units," like national monuments and national seashores with parks.
Keeping that in mind, here are 12 national parks we recommend for families (in alphabetical order), all found in the continental United States, and excluding the three highlighted in this article. Learn more about these parks at nps.gov.
Acadia National Park (Maine)
Biscayne National Park (Florida)
Bryce Canyon National Park (Utah)
Canyonlands National Park (Utah)
Glacier National Park (Montana)
Grand Canyon National Park (Arizona)
Redwood National and State Parks (California)
Rocky Mountain National Park (Colorado)
Great Sand Dunes National Park and Preserve (Colorado)
Yellowstone National Park (Wyoming)
Yosemite National Park (California)
Zion National Park (Utah)
---
NC State Parks Celebrate Centennial
The North Carolina State Parks system is also celebrating a centennial this year. Parks throughout the state are hosting events commemorating their heritage and recognizing their significant role in the state parks system. Three signature events for the centennial include:
Mount Mitchell Heritage Days, Aug. 25-26
Mayo River Reunion, Oct. 8
Crowders Mountain Earth's Last Stand March, Oct. 30
Learn more about these and other centennial events at ncparks.gov.