3 Kids Shows You Should Be Watching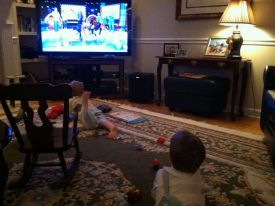 I have no problem admitting I am a TV addict. I have loved TV my entire life. My mom says my first phrase was "Come on down!" and that I had Rainman-like qualities when it came to knowing what shows were on at what time. "Thursday night at 9/8 at central an all new Simon & Simon on CBS." I'm sure that wasn't annoying at all.
My sons Tyler (4.5) & Chase (2) like TV too but they get outside more than I ever did. These are the shows that are currently most popular in our household.
1. Family Game Night (The Hub) – In the 80s and 90s kid/family game shows were everywhere. "Double Dare," "Finder's Keepers," "Legends of the Hidden Temple" and "Guts" kept a lot of TVs glued to Nickelodeon. On the suitable for all ages game show "Family Game Night" many of your favorite board games (Sorry!, Operation, Yahtzee and Twister) are amped up for TV. Yahtzee becomes Yahtzee Bowling with giant six sided pins and Twister is played on a giant board with disappearing dots. Families of various sizes play the games to win prize packages. Win or lose, each family gets to grab a potential key to the Monopoly Man's "Community Chest." The family with right combination gets to play for a chance to win cash and a new car. 2012 Emmy winner Todd Newton brings enthusiasm and humor to making him one of the most likeable game show hosts and a perfect fit for "Family Game Night." 
2. Daniel Tiger's Neighborhood (PBS) – Having grown up with "Mr. Roger's Neighborhood" I was excited to see this show when it premiered in the fall. The popular "World of Make Believe" has been given a cartoon treatment for kids 2-6 years old. It's the cutout style of animation that looks like the not-so-friendly cartoon "South Park." "Daniel Tiger's Neighborhood" centers on Daniel Tiger and his family. The show teaches pre-school skills: getting ready in the morning, sharing and trying new foods. I find myself singing the super simple songs that go along with the lessons like "You gotta try new foods cause they might taste gooood. Goooo-OOO—ddd!" The 30-minute show pays homage to Rogers with animated versions of King Friday, Lady Elaine, Mr. McFeely and the rest of the gang as well as live-action segments that take the lessons into the real world.
3. Transformers: Rescue Bots (The Hub, also available on Netflix) – This is a Transformers cartoon aimed at the younger set (under 7). Instead of fighting the decepticons, the Autobots are teamed with police, fire, and medic workers on earth to help serve and protect the people of a town. There is enough action to keep a 4 or 5 year-old excited and engaged without the violence you'd expect from a regular Transformers cartoon. Themes of helping others, teamwork and understanding others' feelings can be found throughout this new series.
Honorable Mentions: Jake & the Neverland Pirates (Disney Jr.), Team Umizoomi (Nick Jr.)