3 Healthy Cookbooks for Kids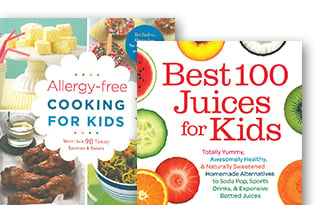 Dust off Your Juicing Machine
"Best 100 Juices for Kids" by Jessica Fisher (Harvard Common Press, $16.95) offers 100 recipes creating nutritious alternatives to soda and sugar-laden, store-bought juices. Seventy of the 100 recipes consist of fruit- or vegetable-based ingredients, while the remaining 30 are for creating creamy smoothies, several of which are dairy-free.
Amazon.com, $12.83.
Allergy Relief
"Allergy-free Cooking for Kids" by Pamela Clark (Sterling Epicure, $14.95) offers relief for parents of children who have gluten, nut, dairy or egg allergies. Choose from 90 recipes for breakfast, lunch, dinner, after-school snacks or pastries.
Amazon.com, $8.99.
A Child's Point of View
"Ella's Kitchen: The Cookbook" (Hamlyn/Octopus Publishing, $19.99) is the first of a new cookbook series created by Paul Lindley for his daughter, Ella, and son, Paddy. Lindley approaches cooking from a child's point of view and uses "simple, natural ingredients that ooze goodness" to create baby foods and packaging that "really connects with little ones – with flavors, colors, textures and even names that will appeal to all of their senses." Recipes include Fruity Banana Bars, Mega Macaroni and Cheese, Smiley Spiral Apple Tarts and more.
Amazon.com, $14.72.
Related links:


3 Kid-Friendly Kitchen Tools

How to Create a Healthy Bag Lunch

Eating Out with Kids: Restaurant Etiquette Tips