3 Great Thanksgiving Books for Kids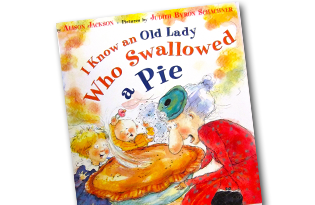 Emily Nanney with Charlotte-Mecklenburg Library suggests these stories to read with children as Thanksgiving approaches.
"I Know An Old Lady Who Swallowed a Pie" by Alison Jackson is a classic title for toddlers and preschoolers. This book is a twist on the traditional story of "I Know An Old Lady Who Swallowed a Fly." In this author's telling, not only is pie swallowed but also cider, squash and turkey. A must read for Thanksgiving that is sure to become a family favorite to read each holiday. (Barnes and Noble, $6.99)
"'Twas the Night Before Thanksgiving" by Dav Pilkey is a take-off on the traditional "'Twas the Night Before Christmas" with a rhyming Thanksgiving twist. In the book, children board a school bus to visit Farmer Nuggett's turkey farm in time for Thanksgiving, which then leads them to show their families how to be especially thankful in this holiday tale with a surprise ending. Great for elementary-age kids. (Barnes and Noble, $6.99).
"The tale of Tom Turkey, as told, a sly and magnificent bird, was wanted as our national symbol, but the bald eagle was preferred," declares author Carol Crane in "P is for Pilgrim: A Thanksgiving Alphabet." The book provides facts about Thanksgiving from when the Mayflower arrived in 1620 to present day traditions of baking pumpkin pies, and includes informational text about the government, Native Americans and Pilgrims, and Thanksgiving Day Parades. Colorful illustrations by Helle Urban correspond to each letter of the alphabet. (Barnes and Noble, $7.01).
Related links:

Top-Selling Family Board Games