3 Great Lake Destinations in the Carolinas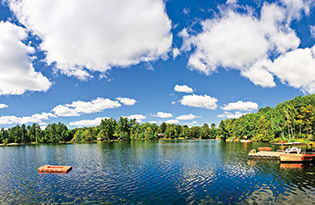 Imagine steering a pontoon boat into a quiet cove as a bald eagle swoops overhead in all its glory. Or forging down a shaded hiking trail, identifying various flora and fauna, and setting up a picnic under the trees. What about sitting around a campfire, toasting S'mores and telling ghost stories?
If any of these activities sound like your idea of family fun, then a trip to one of the many lakes in North Carolina is in order. From the mountains to the coastal plain, these spots offer pristine natural beauty and endless opportunities for adventure. If your family is looking for quiet activities, try reeling in a trout, floating along in a canoe or breaking out the binoculars to spot an osprey or mink. If adrenaline is more your thing, rent a jet ski, hike to a waterfall or bike one of the many trails.
The three lakes featured below provide thrills and chills and guarantee family togetherness. All offer countless activities and plenty of varied accommodations and promise an experience like no other.
Fontana Lake: Bryson City
Nestled on the westernmost edge of our state, Fontana Lake has 240 miles of minimally developed shoreline, giving boaters and kayakers unobstructed views of the Smoky Mountains. A naturalist's paradise, more than 90 percent of the land that surrounds the lake is owned by the National Park Service or the U.S. Forest Service. There are even spots on the water where one can have a clear view of the top of Clingman's Dome, the highest peak in the Great Smoky Mountains National Park.
Perhaps one of the most unique aspects of the lake is Fontana Dam, completed in 1944 to provide electricity as part of the war effort. At 480 feet high, this working hydroelectric dam is the tallest east of the Rockies and the fourth-largest in the U.S.
Karen Wilmot, executive director of the Swain County Chamber of Commerce, recommends visiting in June, July or August, because September marks the beginning of the annual draw-down. Families can learn how the dam was built at the visitor center, which is open from 9 a.m. to 7 p.m. May through November.
Fontana Lake is one of the deepest (more than 400 feet) and coldest in the region, with a diverse fish population that includes walleye, muskie and smallmouth bass, so it's perfect for the amateur reeler. Wilmot suggests the Deep Creek hike, through the entrance of the Park. "It offers three lovely waterfalls on an easy-to-manage trail. Make a day of it with the kids with a picnic, creek tubing and just splashing around," she said. For a bit of history, visit the nearby Cherokee and the Oconaluftee Village, an 18th-century "living museum" that features a dugout canoe, pottery and basket making, and a blowgun demonstration.
There are multiple choices for accommodations, including camping, motels/hotels and cabins. "We offer a great deal of lodging for all budgets and family dynamics, so it just depends on what you're looking for," Wilmot said.
Lake Lure
Travel east into Rutherford County and you'll find Lake Lure – a spot you may recognize because it was featured in films such as "Dirty Dancing," "The Last of the Mohicans" and "My Fellow Americans." Unique in that it has two beaches, a rarity among lakes in North Carolina, there's also a water park for family fun. Coupled with beautiful mountain scenery and dozens of family-friendly activities, Lake Lure is sure to keep you busy.
Start by taking a guided boat tour and let your skipper show you landmarks and share mountain legends. There are plenty of boats to rent as well, whether you're looking to water ski and wakeboard or are more interested in a kayak, canoe or pontoon. The lake is filled with small coves ideal for fishing and bird-watching, and you may catch a glimpse of one of the many collegiate rowing teams from around the South that practice there. The beaches and water park are a highlight and include 100 yards of sand and swimming area, as well as water slides, bumper boats and water games.
About a half-mile away is Chimney Rock State Park and the iconic Chimney Rock, a 315-foot monolith that offers spectacular views from its peak. Take the 44 stairs to the top or hop on the elevator for a 30-second ride. There are five trails to hike, ranging from easy to strenuous, or schedule a rock-climbing lesson. Kids also love Grady's Animal Discovery Den, home to woodland creatures such as nonvenomous snakes, turtles and toads.  
Lake Lure is also home to many exciting festivals throughout the year. The annual Lake Lure Olympiad, held in August, is a summer sports festival for all ages and abilities. The International Dragon Boat Festival in June includes races, parties and a "Waking of the Dragons" opening ceremony. The Dirty Dancing Festival in August includes a lakeside screening, family dance festival and after-party dance party.
Summer isn't the only time to visit. During late April and May, as well as the early fall months, you're sure to have the place to yourselves, says Valerie Hoffman, communications coordinator for the Town of Lake Lure. Accommodations are plentiful and vary from log cabins to motels to campsites.
"We've got it all," says Hoffman. "The mountains, lake and beach. It's what has drawn families here for so long."
Lake Waccamaw: Columbus County
On the eastern side of the state in the swampy Coastal Plain is Lake Waccamaw. One of the few natural lakes in North Carolina, it's a great opportunity for an ecology lesson for the family. There's definitely something in the water of this unique lake, literally called "a one of a kind," says Toby Hall, Lake Waccamaw State Park superintendent. The extreme biodiversity that lives in and around the lake includes seven species that are only native there – three fish, two mussels and two snail species.
It's known as a bay lake, which can be confusing. It's named not for a body of water, but for the "bay vegetation" that grows nearby. There are many conjectures on how bay lakes were formed, but Hall's team feels the "wind and the waves" theory holds the most water. "The theory states that when the ocean waters receded to where they exist today, pools of water remained inland. Strong wind currents from the north-northeast carved out elliptical shapes that eventually became fresh-water lakes," Hall said.
A peaceful paddle is the best way to observe this shallow, oval lake of tea-colored water, allowing visitors to check out various birds and reptiles, maybe even an alligator. You can also glimpse the limestone bluffs along the north shore, which neutralize the water, giving it the neutral pH necessary for the unique ecosystems to survive.
The main area of Lake Waccamaw State Park includes a visitor center, general picnic area and two public piers, as well as four hiking trails and four primitive camping sites. The park staff provides a variety of public educational programs, including interpretative nature hikes, campfire programs and special events. Hall says many choose to tent camp at the park, and other accommodations include nearby Lakeshore Bed and Breakfast, RV parks, hotels in Whiteville (about a 15-minute drive), or a variety of rental homes on the lake.
"Lake Waccamaw is a very tranquil and peaceful place," Hall said. Visitors and local residents enjoy the lake and its surrounding area for its serenity and beauty. This place is truly a gem for the state of North Carolina."
Amy Salvatore Reiss is a freelance writer who lives in Davidson and is the mother of two young girls.