3 Days at Carolina Beach
Plan an off-season visit to this iconic North Carolina town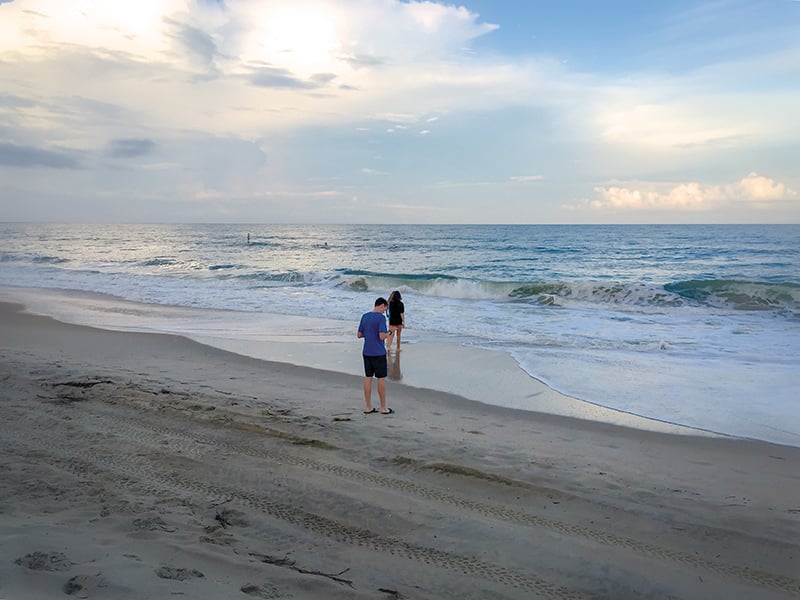 Want to experience the Carolina coast before the summer crowds arrive — and while hotel and bed-and-breakfast rates are lower? Plan a visit between March and May — just before what Heather Hawkins, co-owner of the Beacon House Inn Bed & Breakfast in Carolina Beach, calls "the calm before the storm — before the kids get out of school and everything gets crazy."
Hawkins co-owns the six-room bed-and-breakfast, located at 715 Carolina Beach Ave., with her husband Mike Truffa, a chef and craftsman. Originally built in the 1940s as a boarding house, the Beacon House Bed & Breakfast also offers clean, cozy and dog-friendly beach vacation cottages on the property. Recently, my husband, son, daughter and daughter's friend stayed in one of the cottages, and it provided the perfect place to kick up our feet after each adventurous day.
Here's how you can spend three fun-filled days during the off-season in Carolina Beach, an iconic oceanfront town offering year-round attractions and entertainment.
Day 1
Upon arriving at the Beacon House Inn Bed & Breakfast, we tossed our luggage into the bedrooms and headed across the street to the Oystershell Lane public beach access point. Pristine sand dunes opened up to an expansive view of the sparsely populated beach. We took a relaxing walk toward the Carolina Beach Fishing Pier, located a mile away.
We had dinner at Havana's, an island-themed restaurant located at 1 North Lake Park Blvd. I had the Scallops Casino. Pickier members of our party ordered the Pasta Carbonara and BT's Chicken.
We spent the rest of the evening shopping along Lake Park Boulevard. One of our favorite stores, The Mermaid Castle, offers an eclectic collection of mermaid and fairy figurines, jewelry, clothing, crystals and more.
Day 2
The next day, we headed to the North Carolina Aquarium at Fort Fisher, where we gazed upon vibrant tanks filled with sharks, jellyfish, tropical fish, sea urchins, coral and more. If you want to see more, book a behind-the-scenes tour of the aquarium.
Our next stop was Fort Fisher, of which only 10 percent remains today. This famous fort kept North Carolina's Port of Wilmington open to blockade-runners during most of the Civil War so they could supply the Confederate Army with war necessities. Fort Fisher fell Jan. 15, 1865, after undergoing a massive federal amphibious assault.
Fort Fisher's trail meanders through beautiful, gnarled live oaks to grass-covered mounds that envelope what's left of the structure. Shepherd's Battery features a reconstructed, fully operational seacoast cannon. Exhibits in the welcome center include a fiber-optic battle map, salvaged weapons and various items recovered from the sunken blockade-runner "Modern Greece."
For dinner, we drove .5 miles from Fort Fisher to Jack Mackerel's Island Grill in nearby Kure Beach at 113 K Ave., where we ordered Seafood Penne, Cajun Chicken Alfredo, Shrimp Scampi, Island Jerk Chicken, and Rum and Plantain Chicken. We managed to save room for dessert and drove 3 miles north toward Carolina Beach to experience Britts Donut Shop, located at 13 Carolina Beach Ave. on the boardwalk. We had been told — and now understand why — that no visit to Carolina Beach is complete without trying a fresh, hot Britts donut. Eat them as soon as they hand you that glorious, steaming, brown paper bag. Best. Donuts. Ever.
The girls rode the Ferris wheel and swings at the Carolina Beach Boardwalk Amusement Park before we headed back to our cottage and took an evening stroll along the beach.
Day 3
We said goodbye to our kind hosts and prepared to embark on one last adventure: a kayak tour of the Cape Fear River. We met up with our Paddle NC guide at Carolina Beach State Park, located at 1010 State Park Rd., put on life jackets and listened as our guide covered safety tips and operational instructions. Then we hopped into three two-person kayaks and coasted away to explore the Cape Fear River.
It's amazing how much you can pack into three days at Carolina Beach. Don't take my word for it, though. Visit the Official Tourism Development Authority for New Hanover County Wilmington and Beaches CVB website at gowilmingtonandbeaches.com to plan your own off-season excursion.
Beth Shugg is the editor of Carolina Parent.