2014 Fit Family Challenge: Meet the Experts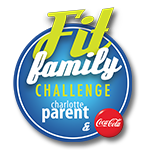 Local Health and Wellness Experts
The experts of the Fit Family Challenge provide guidance and healthy family tips to both our readers and our spotlight families throughout our 8-week challenge. Scroll down to read more about their health and wellness expertise, then see how they're helping our Spotlight Families in the Fit Family Challenge blog.
Samuel Adkins, MD
Medical Expert
Samuel Adkins, MD, is a physician with Cabarrus Family Medicine-Prosperity Crossing, part of Carolinas HealthCare System. He is board certified in family medicine, sports medicine and geriatric medicine. Dr. Adkins is committed to keeping Charlotte families healthy and welcomes conversation with his patients on the importance of healthy, active lifestyles.
Tonda Gridley
Nutrition Expert
Tonda Gridley is a registered dietitian and nutritionist with Cabarrus Family Medicine-Concord, part of Carolinas HealthCare System. She specializes in the management of chronic conditions, such as obesity, hypertension and diabetes. She has a bachelor's degree in medical dietetics from Pennsylvania State University and a master's in clinical/community psychology from Mansfield University. She has worked in the field of nutrition for more than 35 years.
Kim Jacobs
Balance Expert
Kim Jacobs, host of the Telly Award-winning talk show Daily Balance with Kim Jacobs, will be working with the Fit Family Challenge families to help them create schedules that allow for "me" time in order to lower stress levels. Her goal is to empower individuals to take control of their lives and to live with balance and purpose. She knows a lot about the need for balance in our lives, as she is a mother of five children under age 16, a pastor's wife, and the founder of a 501c3 nonprofit organization. Kim states, "I look forward to bringing balance to the world one household at a time."
Tara Branton, MD
Wellness Expert
Tara Branton, MD, is a physician with Carolinas HealthCare System's Weddington Family Medicine, located in Charlotte's Blakeney neighborhood. With board certification in family medicine, Dr. Branton's clinical interest lies in patient wellness. She earned her medical degree from Thomas Jefferson University and completed her residency at the Naval Hospital Pensacola.
Kelsey Knasel
Nutrition Expert
Kelsey Knasel is a registered dietitian and nutritionist with Carolinas Medical Center-Pineville, part of Carolinas HealthCare System. She provides health education, focusing on treatment of individuals dealing with chronic illness and those who are working to maintain healthy lifestyles. She has a bachelor's degree in dietetics from the University of Kentucky.
Devan Kline
Fitness Expert
Devan Kline is certified personal trainer and fitness nutrition specialist. He was drafted in the 2009 Major League Baseball Draft by the San Francisco Giants, where he played three seasons. After being released in 2011, he started Burn Bootcamp Fit Community of Moms where he applies his passion for fitness to help moms reach their fitness goals. He has a bachelor's degree from Central Michigan University.
Chris Bryan
Fitness Expert
Chris Bryan is a personal Trainer, nutritionist, yoga instructor, and owner operator of Burn Bootcamp Fitness Facilities. His goal is to teach those who are looking for a path how to become the healthiest – mentally, emotionally and physically – that they can be.
Thank you to our healthcare partner in the Fit Family Challenge: