2013 Fit Family Challenge Spotlight Families: Before and After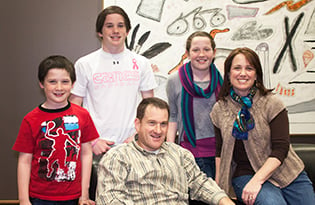 It's hard to believe it's been a whole year since the 2013 Fit Family Challenge spotlight families began the eight-week journey to healthier lives. As we gear up for this year's challenge, we reached out to the Hills and the Garfinkles to see how they're doing one year later.
Steve and Lisa Garfinkle, parents to four children ranging in age from 9-19 years old, admit that they are less vigilant now that the challenge is over, but that many things they learned have "stuck" because they became habits.
"We eat a lot more fruit and salad, drink more water, and are more active as a family," says Lisa Garfinkle. "We have cut back on fast food and try to make healthier choices when we do eat out."
Follow the Hills' and the Garfinkles' journey in the Fit Family Challenge Blog. 
Carl and Shanna Hill and their daughters, ages 4 and 7, learned that they could have fun as a family and exercise at the same time. "Family time is extremely important," says Shanna Hill. "We focus more on eating family meals together and doing more family oriented activities."
For eight weeks last spring, the families committed to eating healthier and exercising more, with the help of Charlotte Parent and a team of experts. The family members met several times with a fitness trainer, a balance expert and a dietitian. "During the challenge […] we made choices to improve our long term health and well-being," says Lisa Garfinkle.
The biggest challenge for both families was finding the time to exercise or prepare healthier foods, but they quickly learned how to make it a part of the daily routine. And both families agree that the challenge offered surprise rewards. "It brought us closer together," says Shanna Hill. "[The program] increased our awareness of so many things."
"More than anything, I think we are more aware of the need to be healthier and we have more knowledge about how to be healthy. Even if we don't always follow through!" says Lisa Garfinkle.
The 2014 Fit Family Challenge kicks off April 15. Learn how you can join in the fun.
Read More: 


View all Family Wellness articles