2012 Spotlight Families: Food on the Run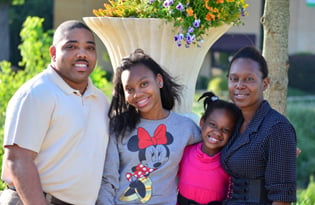 Between full-time careers and family obligations, busy parents have enough on their plates without worrying about what's for dinner. With summer in full swing and kids on a less consistent schedule, finding time for healthy meals and snacks on the run can be an even bigger challenge. For one Charlotte family, the added effort of accommodating for multiple dietary restrictions in a single meal makes the task of healthy eating feel downright daunting.
Marjorie Valle and John Davis, both 38, are looking for ways to lower John's cholesterol, even when he's on the road for work; help Marjorie lose weight; manage 12-year-old Joi's Type 2 diabetes; and instill healthy habits in 5-year-old Jada. "We're not looking for a quick fix," says Valle. "It's about a slow, steady process of shifting all our lives for the better."
In the first month of the Fit Family Challenge, the Valle-Davis family has already learned to incorporate more physical activity into each day and is adding new foods like tofu and brown rice to each meal. But with Jada and Joi off to their grandparents' house for the summer, the family is a bit concerned about maintaining the momentum they've found at home.
Under the guidance of registered dietician Elaine Jones, the Valle-Davis family is finding that committing to a healthy lifestyle for the whole family is easier and more fun than they expected and that the basic principles apply any time, any place. Even on vacation.
"Elaine was amazing and full of tips and new ways to prepare foods," says Valle. "She has given me tips to try foods that I never thought I would try to cook."
According to Jones, who has three teenage boys of her own, making meals that meet the nutritional needs of the entire family is not as complicated as it sounds. "The dietary restrictions for diabetics are really guidelines for healthy and balanced meals and work for most populations." The trick, she says, is making time to plan and prepare meals ahead of time.
"Taking time on the weekend for everyone to sit down and discuss meals together for the upcoming week will save a lot of time," says Jones. "And having the children help with the meal preparation actually tends to increase their sampling of more foods because they want to taste what they have helped to cook."
So far the subtle changes have been a success, and the whole family is on board for trying new things, a collective attitude Valle and Davis hope the girls carry over to their grandparents' house. Before leaving, Joi will meet with Jones to learn more about managing her blood glucose levels, a skill her mother looks forward to her mastering before beginning middle school in the fall. A summer away from home is the perfect testing ground.
"We are still going through the process of figuring out what everyone likes, dislikes and will never try again," says Valle, "But as long as we're having fun and enjoying time together, the girls are happy. They make it fun and keep us all motivated."