2012 Spotlight Families: Commit to be Fit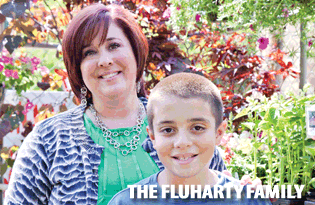 Two families kick off the Fit Family Challenge
"There just aren't enough hours in the day," says Kelley Fluharty. The 40-year-old single mom is leaving the gym, cell phone in hand and 11-year-old son Christopher on the line asking when she's coming home. The juggling act is small victory after a full day of work and an evening of dinner and homework ahead.
"Especially when you're a single parent and you have a child at home, it's an obstacle to find time to go to the gym," she says.
Fluharty isn't alone in her struggle to create a healthy lifestyle in the midst of an already packed family schedule. Marjorie Valle and John Davis, both 38, are balancing the demands of full-time work while raising their daughters Joi, 12, and Jada, 5. With mornings a blur of backpacks and briefcases, the couple is looking for ways to prepare and pack quick meals for work and school that address each family member's individual health needs.
"I need to learn to balance cooking for a diabetic and someone with high cholesterol while still enjoying what we're eating," says Valle. "I don't feel as if I have enough time to cook healthy food that's also tasty and easy."
Aware of the barriers that stand in their way but ready to learn creative ways to improve their health, the Fluharty and Valle-Davis families have committed to completing the Charlotte Parent Fit Family Challenge. For six months each family will share their struggles and successes as they learn what it takes to manage new healthy habits in spite of life's daily demands on time and energy.
"I'm a little apprehensive about putting it all out there," says Fluharty, "But at the same time, it's exciting. This is going to give me the accountability I need."
Each family's personal goals vary. Fluharty is focusing on exercise and weight loss so she can keep up with Christopher, who plays football, basketball and baseball and spends most of his time outdoors. Valle hopes to improve the entire family's eating habits so that Joi can enter high school with the skills necessary to make smart decisions about food to manage her diabetes.
But the end result for each is the same: to improve the health and happiness of their families, and to do it together. "I am hoping for the help I need to get my family on the path to a healthier, happier life," says Valle.
Katie Levans lives in Charlotte and is studying to be a registered dietitian. She loves sharing advice that helps people lead healthy, happy lives.
Meet the Families
Meet the Fluharty Family
Kelley Fluharty, 40; Christopher, 11
> Get to know them
Meet the Valle-Davis Family
Marjorie Valle, 38; John Davis, 38; Joi, 12, and Jada, 5
> Get to know them 
For updates on the families' progress, follow along on the Fit Family Challenge Blog.
What is the Fit Family Challenge?
The Charlotte Parent Fit Family Challenge is designed to engage the Charlotte community along a path to healthier living with expert advice on better ways to eat and exercise as a family. The key to health and wellness is making small changes. Though we call it a challenge, it's also meant to be fun.
We invited families from across Charlotte to commit to get fit and let us follow their journeys to better health. The Fluharty and Valle-Davis families rose to the top based on their responses and enthusiasm for the program. Follow their journeys via blogs on CharlotteParent.com and in Charlotte Parent magazine throughout the next six months.
We want your family to join us, too. Through fitness and nutrition advice, activity trackers and power-hour meet-ups, our goal is to help you build a healthy lifestyle that fits your family. Oh and did we mention there are prizes! Learn more and sign up now.