2011 Readers' Favorites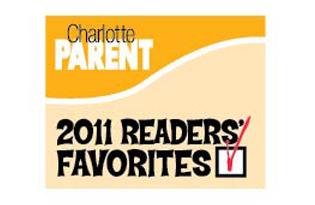 Looking for the best place to spend time as a family outdoors? Or maybe a great ice cream shop for a yummy treat? This year, more than 500 Charlotte Parent readers shared their favorite places to eat, play, shop and explore!
Our annual readers' poll reveals the best family-friendly sporting events, enrichment programs, restaurants, pediatricians, orthodontists and more. So, the next time you're looking for a new place to try, follow our readers' lead and support these winners. Be sure to look for their certificates of recognition and tell them Charlotte Parent sent you.
Out & About
Editor's Pick
Dan Nicholas Park
Just a short drive up I-85 in Salisbury, this destination features a delightful carousel, choo-choo train, sprayground, petting zoo, lake with paddle boats, miniature golf and more!
www.dannicholas.net
Annual Festival/Event
Festival in the Park
This weekend event in September is a Charlotte tradition, attracting more than 100,000 visitors to Freedom Park, and featuring local artists, performers, entertainment and a variety of foods.
www.festivalinthepark.org
Day Trip
Riverbanks Zoo
A 90-minute drive from the Charlotte area, this award-winning zoo in Columbia, S.C., is top notch and even offers behind-the-scenes Adventure Tours.
www.riverbanks.org
Field Trip
Discovery Place
Nature, science, technology and wonderment at your fingertips.
www.discoveryplace.org

Indoor Playground
Monkey Joe's
It's all about play at this inflatable fun center for kids 12 and younger, with slides, jumps, and obstacle courses that keep kids active and happy.
www.monkeyjoes.com
Live Performance
Children's Theatre of Charlotte
For several year's running, this local theater has proven it is the best in family performances, providing enrichment for children ages 3-18 through quality productions.
www.ctcharlotte.org
Museum
Discovery Place
It's newly renovated, and still the gold standard in children's science museums. This uptown gem features an IMAX Dome theater, planetarium and interactive exhibits, and is where science is brought to life and wonder is encouraged.
www.discoveryplace.org
Park/Playground
Freedom Park
Ride bikes, feed the geese or just enjoy a picnic with some play time at this Dilworth haven.
www.parkandrec.com
Place to Ride Bikes
Greenways
The McAlpine and Four-Mile Creek Greenways are the top picks among families for biking fun, with Mallard Creek Greenway a popular pick farther north. Find the closest greenway to your community or neighborhood.
www.parkandrec.com
Place to Take Visitors
Uptown Charlotte
What was once just a hot spot for 9-5ers is now packed with cultural entertainment and a variety of dining options, all within walking distance. The Lynx system connects uptown to South-lying neighborhoods.
www.charlottecentercity.org
Pool/Spray Park
Ray's Splash Planet
Every kid loves a day with Ray and filled with splashing fun in the 117,000-gallon water park sliding down the three-story Blue Comet or spinning in The Vortex.
www.rayssplashplanet.com
Sporting Event
Carolina Panthers game
Winning or losing, this team still is a crowd-pleaser for moms, dads and kids. And, what kid doesn't love the Panthers' mascot, Sir Purr?
www.panthers.com
Dining Out
Editors Pick
Pike's Old-Fashion Soda Shop
The casual, old-time atmosphere and outdoor patio make this a great stop (and it's on the Lynx line!). There's even a bakery inside. Be sure to try the Fuzzy Peach Milkshake.
www.pikessodashop.com
Ethnic Food
Thai Taste
From Pud Thai to spring rolls and red curry dishes, this Charlotte staple offers authentic Thai cuisine and decor, as well as friendly service in a cozy nook on East Boulevard.
www.thaitastecharlotte.com
Family Restaurant (non-chain)
Big Daddy's Burger Bar
You can't go wrong with a burger place named after … Dad! Delicious burgers and fries sure to please any hungry clan.
www.bigdaddysburgerbar.com
Ice Cream/Treats
Cold Stone Creamery
Seven area locations and almost any imaginable mix-in is what makes this a hot spot for families when temperatures rise.
www.coldstonecreamery.com
Kids Eat Free
McAlister's Deli
Children 12 and younger can eat for free on Tuesday nights, and have healthy choices, like a garden salad and cheese pita pizza. Voted Parents magazine top 10 Fast-Casual Family Restaurant in 2009.
www.mcalistersdeli.com
Enrichment
Planning ahead for after-school programs and classes? Be sure to pick up our August issue for 100+ local options!
Arts/Music Class
Noah's Art
All children are artists here and learn the joys of creativity – success is in finding the fun in the process.
www.noahs-art.com
Dance/Cheer
Miller Street Dance Academy
This award-winning studio and community philanthropist is a local standout for ballet, tap and more.
www.millerstreetdanceacademy.com
Equestrian
Latta Equestrian Center
Show grounds, lighted arenas, guided trail rides, horseback riding lessons and a tack shop make this great for all levels of equestrian fun.
www.lattaequestriancenter.com
Gymnastics/Fitness
YMCA
Harris and Morrison branches are the popular favorites this year, because kids gain skills on the bars, beam and vault while moms work out. The Y is always affordable, fun and family-oriented.
www.ymcacharlotte.org
Martial Arts
Karate Charlotte
"A black belt is just a white belt that never quit" is the motto at Karate Charlotte.
www.360charlotte.com/HealthAndBeauty/KarateCharlotte.html
Tutor
Lazar Center for Learning & Achievement
An innovative and engaging atmosphere for hands-on learning experiences and test prep.
www.lazarcenter.com
Story Time
ImaginOn
The uptown children's library is filled with colors and shapes that spark the imagination and is perfectly suited for little ones who love to listen to stories.
www.imaginon.org
Camps
Day Camp
Harris YMCA
With tons of options from half- to full-day, this location creates an environment where kids can be themselves, explore exciting new things, cultivate friendships and create lasting memories.
www.ymcacharlotte.org
Residential Camp
Camp Thunderbird
Swim, ski and slide into the water at this Lake Wylie favorite overnight camp.
www.campthunderbird.org


Health Services
Editor's Pick
Presbyterian Community Care Cruiser
It's a 40-foot mobile clinic with docs and nurses that provide care to children ages 0-17 who can't afford it – from Charlotte and Huntersville to Matthews, Monroe and Salisbury.
www.presbyterian.org
Family Dentist
Laxer, Long & Savage
"They made my son's first experience with teeth cleaning fun and stress-free. They especially were great with my son when he had to have three cavities filled. I was so worried … but he walked out happy and smiling!" says Leigh Watts.
www.laxerlongandsavage.com
Orthodontist (It's a tie!)
Starr Orthodontics and Sellers Orthodontic
"I compare the service at Dr. Starr's to being a house guest.  When you get there, you do not have to ask the host for anything, as all the bases are covered – it's that relaxing," says Michelle French.
www.starortho.com
"The staff at Dr. Sellers' office are so friendly and welcoming to kids. Children are greeted with genuine smiles and caring treatment. And the results are fantastic!" -Eve White, editor.
www.sellersorthodontics.com
Pediatric Group
Charlotte Pediatric Clinic
"… I found lots of support and genuine interest from the doctor who helped us get my child the help she needed. And because of the warm welcoming my children receive, they are more at ease when we go to the examination room," says Kristie Marino.
www.charlottepediatricclinic.org
Place to Give Birth
Carolinas Medical Center-Pineville
The first maternity center in the Charlotte area to provide LDRP suites offering the comforts of home, including a private whirlpool tub, CD player, hair dryer, refrigerator and more.
www.cmc-pineville.org
Special Needs Services
Child & Family Development
A host of pediatric therapists and specialists staff this multi-disciplinary pediatric clinic with two convenient locations. Counseling, speech therapy, PT, OT and more.
www.childandfamilydevelopment.com
Need an Urgent Care center? www.charlotteparent.com/directories/urgentcare/index.php
Party Time
Editor's Pick
Suarez Bakery
Breads, cookies, cakes and donuts … oh my!
Birthday Cake
Harris Teeter
Convenient, creative and priced just right, these cakes are always a hit.
Party Facility
Monkey Joe's
Let the kids monkey around on the inflatables and the planners provide the fun. No clean-up for mom necessary!
Party Entertainer
Wish Upon A Star
Dazzle and delight the guests with clowns and other characters, or book a theme party the birthday child will remember forever.
Shopping and Services
Editor's Pick
Toys & Co.
Stacked high with toys for all ages and occasions, including wooden and unique items, and a friendly staff that willingly wraps gifts and knows the inventory, this Cotswold store is fun for kids and parents.
Children's Haircuts
Pigtails & Crewcuts
"A great kids' salon – staff is patient and professional, and the environment is bright and colorful. So inviting for kids," says Jacqui Hawkins.
Consignment
Once Upon A Child
Whether it's a high chair, pack-in-play, stroller or just some clothes for the kiddos you need or want to get rid of, this is the place.
Toys
Toys "R" Us
Founded in 1957, this world-leading toy retailer is a child's playtime palooza.
On the Web
Mom Forum & Parent Support Group
Charlotte Mommies
"They say kids don't come with a manual. Charlotte Mommies is probably the closest thing I will ever get. Whatever issues I'm having, or questions I have, someone else has been through it," says Niki Hogue.
Best-Kept Secrets
Arts & Science BOGO Deals
A $50 annual donation to the ASC gets you a Connect with Culture Card. Present it at many local attractions for buy-one-get-one offers and discounts.
Stroller Strides Fitness and Fun
Moms lace up their sneakers and set out with their babies in strollers at Northlake Mall.
www.shopnorthlake.com/partner/stroller_strides_of_lake_norman
Congratulations to our Readers' Favorites contest winner, Michelle Braun of Indian Trail, selected from hundreds of qualified ballots. The Braun family will escape to Great Wolf Lodge in Concord to enjoy a weekend of splashing at the giant indoor and outdoor waterpark, with 12 slides, four pools, a giant water fort and more.

A special thanks to Great Wolf Lodge for donating this fun family getaway!