2009 Terrific Teen: Lane Baker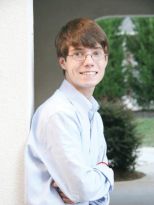 Not many 15-year-olds have graced the stage of Carnegie Hall, but Lane Baker did just that in June. He was presented the National Silver Medal at The Scholastic Art & Writing Awards for his short story "Lindisfarne." The historical fiction story, to be published by Scholastic, is based on a Viking attack on a monastery during the Middle Ages. Lane is a student willing to go the extra mile. "Lane has an inquisitive mind — not only did he do extensive research on his topic, he did it on his own time simply because he was interested," says English teacher, Robi Rego.
"I felt honored to have my work recognized in a place like New York City," says Lane, who also won the local, state and U.S. quarterfinals for the Daughters of the American Revolution Essay Contest in seventh grade.
He is a talented illustrator, as well. As early as age 2, his parents, Barry and Alison Baker, noticed Lane possessed a desire to express himself visually. His earliest drawings sprung from an obsession with dinosaurs and later morphed into fantasy art. Recently, he's begun to focus more on drawing people and landscape, using his artistic talents to help the community. He's illustrated cartoons for Charlotte Mecklenburg Green Invaders, helping to bring awareness to the threat of invasive plants.
Art teacher Josh Barkey says Lane has a different way of seeing and a keen ability to draw from imagination and memory. Though his work has been displayed at local libraries and bookstores, Lane is unusually modest about his talent. "He lacks the impatient temperament that often plagues the exceptionally talented. I have seen him on numerous occasions take time off his own work to gently guide other less-gifted classmates," says Barkey.