2009 Terrific Teen: John Banks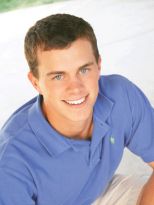 John Banks loves competition, and there's nowhere he's more competitive than on the tennis court. John, currently ranked No. 1 in North Carolina in the Boys' 18 and Under Division, is team captain at Providence Day. He has played varsity tennis since his freshman year and compiled a 48-14 singles and doubles record in the first three years of his high school career. As a junior, John was undefeated in singles during the regular season. This summer he won both the Tar Heel Qualifier and the State Championship for his age division. Coach Ryan Harper sees John as a role model for his teammates, because he sets the tone for work ethic. "Players see the best player on the team, one of the best in the country, taking every stroke and movement seriously. They realize they better work at least as hard as he does," says Harper.
An intense and intimidating player, John has a healthy respect for his opponents, says Harper. He's won multiple sportsmanship awards at tournaments, some with more than 200 entrants. The son of Drs. Peter and Susan (Esther) Banks, John took up tennis at age 8. He spends 15-20 hours a week on the court and more time on the road traveling to tournaments to maintain his top ranking.
In spite of all the time devoted to tennis, John remains an exemplary student, a member of the Student Government Association and ranked in the top 10 percent of his class. He's inquisitive, likes science and figuring out how things work says his dad, Peter. But it's not always easy to balance life on the court and in the classroom. "It's a grind," John says. "Sometimes I'm doing homework on Saturday, or I'll have to get up at 5:30 a.m. to finish homework. My parents stress homework comes first." And apparently all that hard work has paid off: John has committed to play tennis at William & Mary next fall.