2009 Terrific Teen: Jill Moore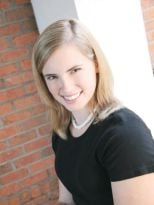 Jill Moore knows something about blazing trails. The 16-year-old is Cabarrus County's first wheelchair athlete. With her parents, Gary and Patti Moore, Jill worked with Cabarrus County Athletic Director Scott Barringer and the North Carolina High School Athletic Association to add a wheelchair division in track and field. She's the first wheelchair athlete to compete in regional and state finals and score points for her team.
At state finals, Jill completed the 1,600-meter race eight seconds behind the winning able-bodied runner and the 3,200-meter nearly a minute ahead of the fastest able-bodied runner. Her school presented her with the 2009 Courage Award in recognition of her achievements.
Jill hopes to compete in college sports and someday at the Paralympics. Named National Junior Athlete of the Year by Sports 'N Spokes magazine in 2008, Jill fills her schedule with speaking engagements. An advocate for people will disabilities, her goal is to change the perception of people in wheelchairs as being fragile. "The doctors aren't going to find a cure fast enough, so get out there and find something you love to do," she said. She urges parents to support their children in wheelchair athletics. To raise awareness of disabilities, Jill organized a wheelchair basketball game between the Charlotte Rollin' Bobcats, the No. 1 wheelchair team in the nation, and Northwest staff.
In addition to her athletic abilities, she maintains an impressive GPA. Athletic involvement has boosted Jill's confidence. Patti says her daughter used to ask why she had to be different. Now she never hears those words. "Kids see how hard she works and the time she puts in. They often don't remember she's in a chair," says Patti. Her teammates immediately embraced her because of her work ethic and personality. "Jill is a successful athlete because she refuses to be outworked by anyone," says Jason Adams, athletic director at Northwest.