2009 Terrific Teen: Jessica Philbrook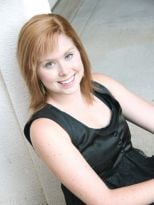 Jessica Philbrook stays on her toes whether she's performing in a studio or in the classroom. That level of commitment and determination has made her a standout as a dancer and student. Jessica, 17, is a high achiever, maintaining a grueling schedule of AP and honors classes in addition to four hours of school dance classes. For two years, she has been part of NWSA Dance Ensemble, a student-based company that rehearses and performs for area schools and festivals. In 2006 and 2008, Jessica's school recognized her dance achievements by awarding her Dance Excellence honors.
The daughter of John and Melissa Philbrook, Jessica is a leader in the classroom. Jen Sherman, dance department chair, says Jessica constantly strives to refine her dance skills, but she also never makes her peers feel inferior. Sherman often observes Jessica helping classmates by going over dance exercises or movements several times until they grasp it. "She includes everyone around her and encourages self-motivation and positive self-esteem. She is always cheering everyone else on as she waits for her turn," says Sherman. "Jessica exemplifies what every student at NWSA hopes to become."
Jessica, whose specialty is modern and contemporary dance, uses her art as an outlet for helping others. A volunteer with the Allegro Foundation, Jessica works with students with disabilities and has participated in performances along with her students. "It's taught me patience and that you don't have to get so busy in your own lifestyle," she says. Jessica says her volunteer work is rewarding and sparked her decision to double major in dance and elementary education in college.
A dance student since she was 5 years old, Jessica also takes classes and performs with Lake Norman Dance Gallery. "She is extremely humble and kind to the kids at the studio," says Melissa, Jessica's mom. "They all look up to her, and she's well