2009 Terrific Teen: Caitlin Gilliland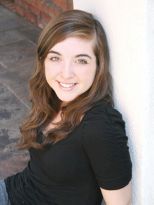 When Caitlin Gilliland walks on stage, she mesmerizes audiences with her graceful and elegant voice. South Point Choral Director Beverly Laney distinctively remembers hearing Caitlin sing for the first time. "Her technique was outstanding, and her tone was round, free and contained a natural vibrato that just made you want to keep listening. Never had I heard a freshman come through with that mature of a sound at such a young age," she says. The classically trained soprano is a member of the Stallion Corral Concert Choir, an audition-only chorus at South Point that competes, and earned a spot in the South Carolina All-State Chorus in 2009. She has received superior ratings at state choral competitions in 2008 and 2009 and for her solo and ensemble performance in 2008.
Born into a musical family, Caitlin developed an appreciation for classical music early in her childhood. The daughter of Andy and Paige Gilliland, Caitlin has taken voice lessons since age 12. "I really enjoy singing arias. I love the acrobatic vocal training, the runs in the music and the very big intervals," Caitlin says.
Caitlin has always been creative, writing stories as a young girl and composing songs. In addition, she is among the top students in her class and commits her time to helping others. Each summer, she participates in Carolina Cross Connection, doing repair and yard work for the underprivileged and elderly, and she performs a concert at Central United Methodist Church's annual outreach carnival. Caitlin's mom says she has a tender heart for those in need. "It's important for her to know that she's had a positive effect on a person's life. Her love of God and the joy she receives in helping others focuses her sense of community." She plans to study musical theater and is considering an education in musical therapy to combine her passion for music and helping others.