20 Places to Buy Children's Face Masks in Charlotte
Options across the area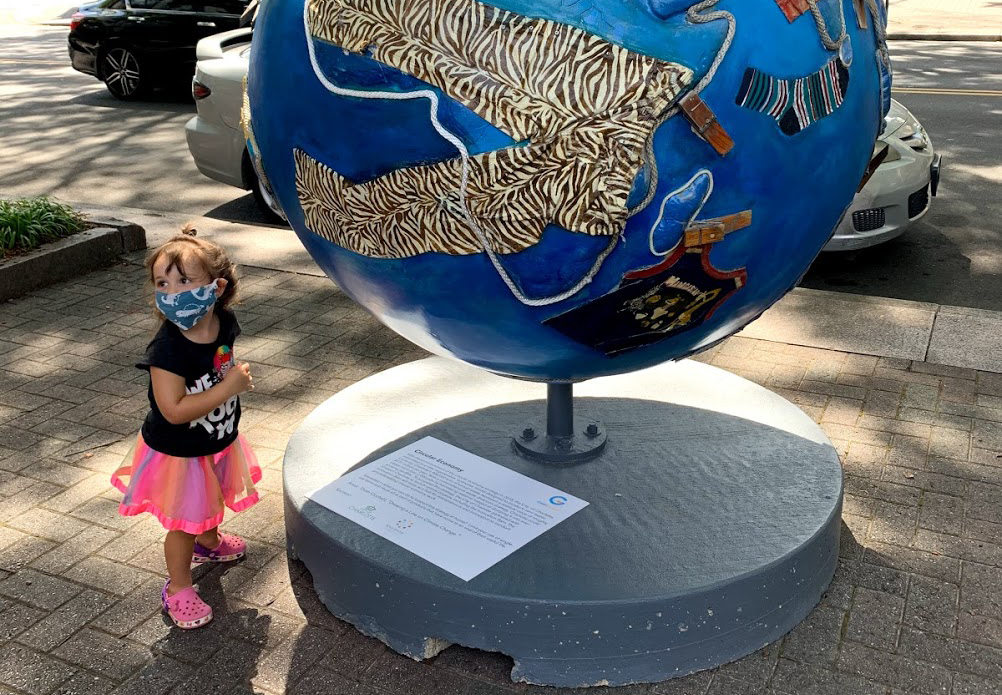 North Carolina's executive order requires the use of face masks in public. Those with medical conditions and children younger than 11 are exempt, but parents who want to have some on hand can purchase a child's face mask from one of these local retailers. *Please note that the CDC states children that are younger than 2 or unable to remove a mask without assistance should not wear one.
This children's consignment store buys and sells gear, toys, and clothing for children and babies. The Arboretum and Park Road locations now sell children's face masks online and in store. Customers can also preorder for retail to-go or curbside pickup.
Location: Arboretum, 3407 Pineville Matthews Rd., Ste. 600; Park Road, 4211 Park Rd.
Cost: $10
The seemingly ubiquitous Girl Tribe Co. sells clothing, accessories, and giftable housewares. Shop in-store or online for Girl Tribe Co.'s collection of face masks, available in various sizes.
Location: 1800 Camden Rd., Ste. 102
Cost: $10 for teen mask two-pack, $10 for toddler mask four-pack
Paper Skyscraper provides a unique selection of books, cards, gifts, housewares, and Charlotte-themed goods. Now they sell a selection of face masks, too, including small and children's sizes.
Location: 330 East Blvd.
Cost: $6-$17.95
Roses and Azalea creates and sells non-toxic personal care and beauty products, and now they offer organic hand sanitizer and face masks as well.
Online boutique Village Co. specializes in fashionable women's apparel. Find face masks for both adults and children in the accessories area of the website.
Location: Shop online
Cost: $8
Pura Vida Worldly Art sells fair trade, handmade, ethically made goods from around the world. This local shop also carries items created by Charlotte artists. Pura Vida Worldly Art current sells adult and youth masks, which can be purchased online, in store, or during a reserved private shopping session.
Location: 3202A North Davidson St.
Cost: $12
Shoppers visit Anne's Boutique for the colorful clothes and accessories, but they return for the customer service. Anne's Boutique, located in Concord, now sells Simply Southern face masks in adult and youth sizes.
Location: 349-E Copperfield Blvd.
Cost: $11.99
This local business creates custom private label apparel, accessories, promotional items, and now, masks. The N95-style masks, sold with or without filter, can be purchased in adult or youth size in various colors.
Location: Shop online
$9 without filter, $10 with filter
Show team pride and respect for your community by wearing a Carolina Panthers face mask. Get the official team logo at the Carolina Panthers online NFL Shop.
Location: Online shop
Cost: $24.99 per three-pack, $14.99 per single
The Beehive, located in Bank of America Plaza, now sells masks in adult and child sizes. Call 704-334-9322 for curbside shopping or visit the store on Wednesdays and Saturdays.
Location: 101 South Tryon St., Ste. 2
Cost: $16.98, includes two replaceable carbon filters
Sport a very sporty mask from the Hornets Fan Shop, the official online store of the Charlotte Hornets. Find the Charlotte basketball team's logo on masks for the whole family.
Location: Online shop
Cost: $24.99 per three-pack, $14.99 per single
Dance Style Design, a custom design boutique, specializes in dance and ice-skating apparel. The boutique now offers a variety of face masks locally made with local fabric. Find color, print, and size options for filter masks and pedestrian masks. Call 800-914-3881 or email to order; in-person location visits are by appointment only.
Location: 11709 Freuhauf Dr., Ste. 109/110
Cost: $8 filter mask, $4-6 pedestrian mask; customized with logos or designs for additional cost
Hey Willow Handmade creates handmade face masks for adults and children from organic cloth. All masks meet CDC guidelines—see the Available Fabrics album for current offerings.
Location: Online Facebook shop
Cost: $15
Fans can cheer for the Charlotte Checkers safely while wearing a Charlotte Checkers mask. According to the website, size "small" fits most youth.
Defined Design produces and sells handmade pillows, and the Charlotte-based company is putting its skills to work crafting face masks. Child sizes are available for the Lightweight Safety Mask. Pickup is available with promo code "PICKUP." Email defineddesignsshop@gmail.com with order number for pickup information.
Location: Shop online
Cost: $10
Buy something good while doing good for others. Fashion and Compassion is a 501c3 nonprofit that benefits local women and worldly artisans. Find Fashion and Compassion's boutique store in Dilworth to shop for jewelry, face masks, décor, and accessories. See website for boutique hours, online shop, and contact information.
Location: 1717 Cleveland Ave.
Cost: $12
Shop local and purchase a handmade mask from Marieta. Shop the fun fabrics with numerous prints and colors. To purchase a mask, send a Facebook message or comment on the item from the Facebook page. Customers can also order these masks from CLT Odds & Errands.
Shop for quilted smiling face masks from Happivally, and finf preschool and grade school sizes, as well as adult.
The Liberty Book Company, an independent bookseller in Rock Hill, stocks books for the entire family. The store now offers masks that can be shipped or picked up directly from the store. Call 803-327-9028 prior to picking up.
Location: 1037 Oakland Ave., Rock Hill, SC
Cost: $10
KatyLoo Boutique, located in Fort Mill, sells fashionable clothing and accessories online and in their Baxter Village store. Find a fashionable face masks to match your romper or maxi dress.
Location: 975 Market St., Ste. 102, Fort Mill, SC
Cost: $12