15 Reasons I'm Not a Cool Dad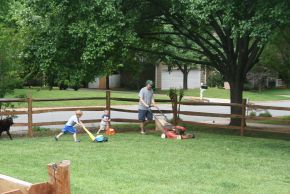 When I was in my twenties I told myself I was going to be the coolest dad. Equal parts of TV dads Mike Brady, Heathcliff Huxtable, Danny Tanner and Michael Bluth. I've come to realize in my thirties that I'm more Phil Dunphy than any of those other guys. My boys are only 2 & almost 5 so if I'm this dorky now I can only imagine how embarrassing I'll be when they're 12 and almost 15. Here are 15 of the many reasons I'm not a cool dad.
1. I'm making a list of reasons why I'm not a cool dad.
2. My almost five year-old's most common response to my behavior is "Stop it daddy!"
3. I post a ridiculous number of pictures of my kids on Facebook.
4. I wear an O'Neill Wetsuit Rash T-shirt in the summertime to cover my gut at the pool and beach.
5. Whenever "In The Air Tonight" by Phil Collins comes on the radio, I crank it up (especially the little drum solo).
6. I always confuse Bed, Bath and Beyond with Bath and Body Works.
7. Most of the primetime shows I watch are on CBS.
8. Dinner out at Chili's has become a highlight of the week.
9. I enjoy the Imagination Movers more than my boys do (I'd like to see them in concert).
10. I recently upgraded from a flip phone to my first smartphone.
11. My only cooking ability involves a grill yet I watch "Chopped" and "Masterchef."
12. I get frustrated when my sons don't want to hold my hand.
13. My almost five year-old hasn't been allowed to try gum yet. I fear it will end up in his hair.
14. I intended to watch the entire new season of "Arrested Development" in one sitting when it went live on Netflix. Once I realized it wouldn't go up until 3am instead of midnight, I went to bed. I still have 5 episodes to go.
15. My kids are the only ones who haven't noticed how horribly I dance. They will soon.
WCCB News Rising Host Derek James balances a full-time job in the glamorous world of television news (including a 2:30am wake up and stale coffee) along with managing chaos every afternoon for 4 year-old Tyler and 2 year-old Chase.
See more from Derek: @DerekJamesTV on Facebook and Twitter.