14 Weekend Ideas to bring on an A+ School Year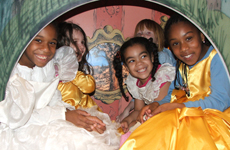 Friday
Back to School Bash. Get the kids a free haircut, school supplies and participate in a skateboard competition. Naomi Drenan Recreation Center, 750 Beal St.
Family Storytime. Explore stories through dancing and singing. ImaginOn: The Joe and Joan Martin Center, 300 E. 7th St.
Lego Picnic. Learn mathematical concepts with LEGO building blocks. Mountain Island Library, 4420 Hoyt Galvin Way.
Once Upon a Time… Exploring the World of Fairy Tales. Bring the little ones out to interact and explore with a variety of tales and stories . ImaginOn: The Joe and Joan Martin Center, 300 E. 7th St.
Southern Ideal Home Show. From today through Sunday, there's something for everyone to enjoy. Mom find new ways to jazz up the home and the kids can have fun watching twiggy the squirrel perform. The Park Expo and Conference Center, 2500 E. Independence Blvd.
Saturday
Crafts for Kids. Build and make a fun themed based craft. Today, the kids will make a silly face magnetic note holder. Lakeshore Learning Center, 10005 E. Independence Blvd., Matthews.
Fall Open House. Participate in activities and enter a raffle prize giveaway. Romp n' Roll, 4200 Main St., Ste. 100, Harrisburg.
Hummingbird Festival. Learn about one of the fastest buzzing birds around with stories, arts and crafts, games and exhbits. Reedy Creek Nature Center, 2900 Rocky River Road.
Lowes Build and Grow. Make a craft from a Monster's vs. Alien Robot theme. Lowes Home Improvement locations.
Reptile & Exotic Animal Show. Today and tomorrow have a chance to see different scaly animals, hear animal seminars and have fun with lots of kids activities. Cabarrus Arena & Events Center, 4751 Hwy 49 North, Concord.
York Summerfest. A petting zoo, inflatables, food, climbing walls, and a sports tournament-what more could a kid ask for? North Congress St., York, S.C.
Sunday
Kids Club Central: Back-to-School. Celebrate the start of an upcoming school year with Charlotte Parent, Children's Party Plus and Radio Disney. Epicentre, 210 E. Trade St.
Reedy Creek Eco Race. Learn how to use a compass while going on a mini adventure race. Reedy Creek Nature Center, 2900 Rocky River Road.
Under the Shade Tree.  Enjoy today like the early settlers did in the 1700s. Watermelon eating, games and amusements.  The Schiele Museum, 1500 E Garrison Blvd., Gastonia.
Find more Things to Do this weekend.
Are you getting ready to send off your child to kindergarten? Here's a few tips to making saying goodbye a smoother process.