13 Practical Gifts for Mom and Baby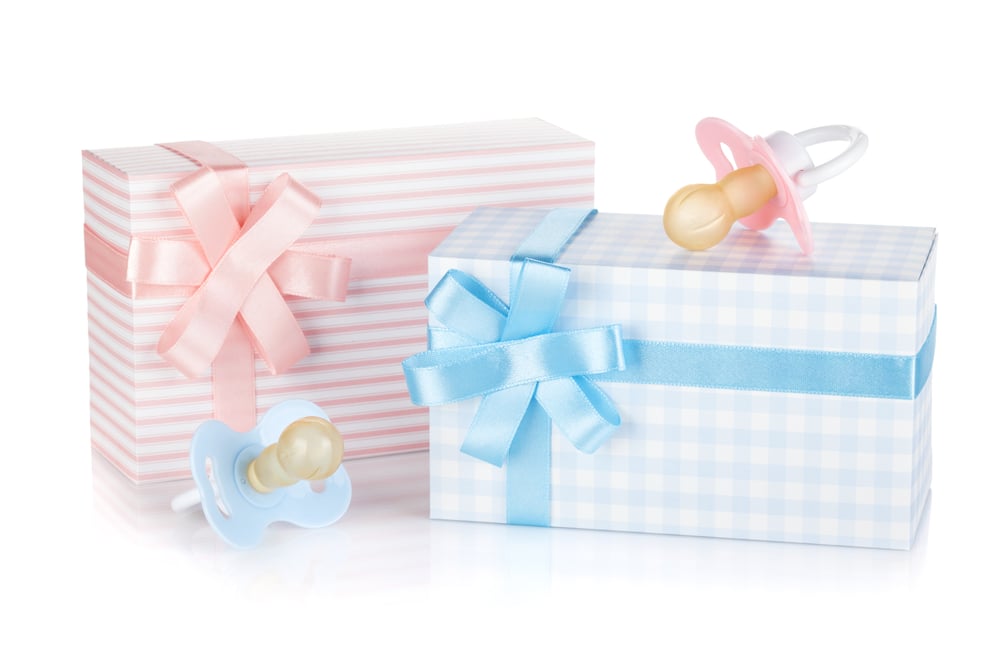 Don't get me wrong, I'm very much appreciative of the darling baby clothes we received as we welcomed our second child, But closets, drawers and Space Bags are already filled to the brim. After all, I'm a second-time mom to our second daughter, and who can resist buying those sweet little sleepers and smocked dresses? I, too, have fallen prey to their siren song.
While it's nice for our newborn to have her own stuff, she certainly doesn't know she's wearing big sister's well cared for hand-me-downs. You know who constantly does need new clothes? Our first daughter. So at the risk of sounding ungrateful, here are 13 non-clothing gifts — from the intangible to the practical and traditional — for baby and the unconventional mom.
Eye Cream
The new mom may not be getting a ton of sleep in those first few weeks, but she can fake it with an eye cream that helps diminish dark circles and bags. Applying a favorite product twice daily can feel downright luxurious.
Birth Announcement Fund
Whether it's Minted, Shutterfly or a local stationary shop, cut mom a check and help her splurge on upgrades like premium paper, foil press and embossment. Score bonus points by giving her a couple of books of stamps for all those announcements and any thank you notes she's sending.
Professional Photo Session
Preferred photography styles are personal, but giving money toward a professional photo session is a great way for mom to capture her pregnancy and the quickly fleeting newborn time. Some photographers offer savings if you book a maternity and newborn session.
A Baby Book
A baby book is a traditional gift and one that I'm not sure is given any more in our "paperless" modern time. I'm a traditionalist at heart, but I love modern touches so I went with the "Sweet Sparkle" Carter's Memory Book for our second baby. I also purchased Carter's coordinating First Year Calendar, which is great for jotting down quick notes and dates. These products work really well together and are offered in boy and girl versions. $24 for the baby book, $13 for the calendar.
Hand Lotion
Two kids in diapers do a number on the caretaker's hands. Add in the extra-vigilant, handwashing hygiene around a newborn and you've got a recipe for dry, cracked hands. My favorite brand — Beautycounter Hand Cream — comes in a pack of five, which is great for every sink in the house, plus a nightstand and diaper bag. $72 for five-pack. beautycounter.com/holiday-hand-cream-collection.html.
Laundry Supplies
I forgot how much laundry a newborn and new mom can go through — and having an extra member in the family brings up the law of averages. The practical mom can appreciate a gift set of detergent, stain remover spray or Shout Color Catcher sheets (in case there's no time to separate loads), as well as a delicates mesh bag to corral little baby socks. Skip the specialty baby detergent and go for a hypoallergenic brand that has no dyes or perfumes so it's safe for baby's sensitive skin. Shout Color Catcher, $5.
Diapers and Wipes
Diapers are an obvious, but sometimes neglected gift because they aren't so glamorous. You get bonus points if you go on a fact-finding mission to get Mom's favorite brand.
Meal Train
We started our firstborn in preschool last fall, and the other preschool families organized a meal train for us when our second child was born. We worked with the organizer to go over preferences or allergies, and the best means of pickup to make it work for our new family of four. For two glorious weeks, we didn't have to worry about preparing or shopping for dinner. mealtrain.com.
Trash, Recycling and Mail
What used to be a quick walk to the curb and back can seem like a 5-mile journey — especially for the mom juggling a newborn and toddler. Work out the details with the family before baby arrives, and offer to bring around her trash and recycling cans on pickup day. Score bonus points by offering to get her mail (just stick it under the doormat).
Etsy Gift Card
From adorable nursery art and decorations to stickers marking your newborn's "monthiversaries," Etsy is the go-to online retailer for unique products. An older sibling may be transitioning to a "big boy" or "big girl" room, and this gift could also help outfit that space, too. Since these items can be personal — and personalized — opt for the gift card.
Amazon Prime Membership
For $99 a year, an Amazon Prime membership provides free two-day shipping for eligible purchases, unlimited streaming of movies and TV shows (for late-night feedings), the ability to borrow books for all of those parenting titles, photo storage for all of those newborn and family snaps, streaming music and more. Prime members can also join Amazon Family at no additional cost and get discounts on diaper subscriptions and more.
Babysitting
Mom might not be quite ready to dive into the teenage babysitting scene, so give her a chance to get out of the house with peace of mind by offering your babysitting services. Sweeten the deal with a gift card for a blowout (the hair kind), a pedicure or a favorite date night spot so she's accountable for using your services.
A Big Sis or Big Bro Gift
It's always a great idea to tuck in a book or other small gift for big brother or big sister so the new sibling doesn't feel left out. A play baby doll sling is a cute idea (check etsy.com for some cute slings) and there are lots of "welcoming new baby" books on the market. "You Were the First" by Patricia MacLachlan is my favorite and makes me cry every time I read it. If you're not sure if big bro or sis already has a certain book or baby doll how about offering an experience? My in-laws treated our firstborn to an afternoon at the circus when it was in town. Sling, $14; book, $10.
Lauren Bell Isaacs is a mom to two daughters and the digital media specialist for Carolina Parent.
Going the traditional route for a baby gift? Check out my other recommendations.
This post was not sponsored. All opinions and selections are my own.