12 Family Fun Ideas for the Weekend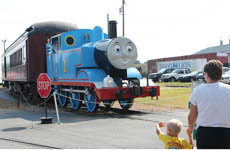 Friday
Children's Sensory Storytime
Enjoy songs, activities and stories that benefit children with developmental disabilities. Scaleybark Library, 101 Scaleybark Road.
Day Out with Thomas
Today through Sunday participate and enjoy storytelling, a 25-minute train ride and live music. NC Transportation Museum, 411 South Salisbury Ave., Spencer.
Fantastic Frogs
Meet remarkable live frogs from all over the world whose unique "superpowers" have adapted over time to help them survive. Discovery Place, 301 N. Tryon St.
Rural Hill Amazing Maize Maze
Find your way around the 7-acre corn maze, play corn hole and take a hayride around the farm. Rural Hill, 4431 Neck Road, Huntersville.
Saturday
Family First: Writing Workshop with Kwame Alexander
Engage in a special poetry writing program. The Harvey B. Gantt Center for African American Arts + Culture , 551 S. Tryon St.
Hola Charlotte Festival
Explore Latin culture through salsa dancing, Zumba demonstrations, food and even a kids zone. Uptown Charlotte.
Jazzy Strings for Kids
Using puppetry, the Mountain Marionettes explore the sounds of jazz music. Community Performance Center, 249 East Main St., Rock Hill, S.C.
Mars/Not Mars Evening Star Party
Learn how to tell a star from a planet by using your own eyes. Schiele Museum, 1500 East Garrison Blvd., Gastonia.
Musical Petting Zoo
Make your own music featuring woodwinds, brass and percussion instruments. Imaginon: The Joe and Joan Martin Center, 300 E. 7th St.
Sunday
Carolina Renaissance Festival
Beginning Friday, there's fun for the family including food, circus demonstrations and jousting. 16445 Poplar Tent Road, Huntersville.
Dinosaurs in Motion
Touch and move dinosaurs while exploring kinetics, biomechanics and robotics. Discovery Place, 301 N. Tryon St.
Disney On Ice: Princesses and Heroes
It's the last day to see Disney characters and stories come to life on the ice. Time Warner Cable Arena, 333 E. Trade St.