11 Places to Splash Around for a Summer Birthday Party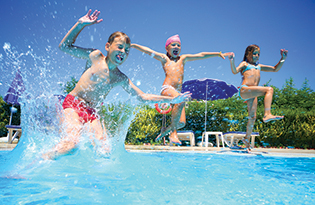 AGES 2-4
​Little kids love to get wet unless, of course, it's bath time. For super-wet, super-sloshy birthday fun, head out to one of Mecklenburg County's five public spraygrounds. Check out Veterans Park, the largest splashpark, situated off Central Avenue, or splash around at the West Charlotte Recreation Center, Nevin Park, Cordelia Park or Latta Park. Each one offers amusing features spraying water that children can run through, jump in or just enjoy. The Green in uptown also happens to have three towering stone fish fountains — a perfect addition to that special day in the park.

AGES 5-10
Have a splash bash at Ray's Splash Planet where kids can enjoy themed parties at the 117,000-gallon waterpark. Take a ride on the three-story Blue Comet or play in Moon Beach. Savor a spectrum of water thrills at another indoor park, the Great Wolf Lodge in Concord. Weather permitting, gather your crew and sail on over to Boomerang Bay at Carowinds, complete with the Great Barrier Reef, the ever popular 25,000 square-foot wave pool; Jackaroo Landing, a three-story water jungle gym and extreme rides such as the Awesome Aussie Towers. Don't forget about the two new-this-season waterslides, Surfer's Swell and Dorsal Fin Drop.

AGES 11+
Looking for an unforgettable experience at the world's largest man-made recirculating river? Take a short drive to the U.S. National Whitewater Center, where there are several rafting trips to accommodate different ages and skill levels. Family rafting trips can accommodate groups of younger children, while adventure rafting ensures a true get-wet experience. Looking for an extreme encounter on the wild rapids? Older teens with rafting knowledge may consider Rodeo Rafting or Big Water Sessions. Rather be at the lake? Grab your paddles and boards at My Aloha Paddle and Surf Inc. at Lake Norman. Kids ages 12 and up get a quick intro and then free time to paddleboard with their buddies.