100 Days of Real Food: Local Blogger Makes Best-Seller List With First Book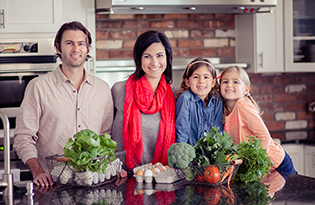 Lisa Leake just wanted to give her family the very best when she, her husband and two daughters, ages 3 and 5 at the time, went on a journey of 100 days of real food. That meant they ate nothing processed — no white sugar, no white flour and nothing with more than five ingredients — for 100 days. She decided to blog about that journey, and four years later, she has turned her wildly popular blog into a book, "100 Days of Real Food," that published in the fall and made the NY Times best-seller list. We talked to Leake, who lives in Matthews, about how she did it and got some tips on how to make it work in any household.
CP: It's the start of a new year, for families ready to make a fresh start where do they begin?
LL: The best place to begin is in your own pantry. Start by reading ingredient labels and looking for products that are made with five or less whole ingredients. Slowly start getting rid of everything else because it's much easier to avoid processed food when it's not in the house.
CP: What were initial struggles from your family about changing their diets?
LL: The biggest challenge for us was my younger daughter who would only eat one vegetable before all of this – and it was frozen peas! Once we decided to take our pledge though I started trying a lot harder, which meant offering her a variety of vegetables cooked a variety of ways on a regular basis. It was tiring at times, but she eventually stopped turning her nose up to the new foods and (after many failed attempts) today she loves salad, broccoli and even Brussels sprouts.
CP: How can families do this on a budget?
LL: I sit down and spend time each week deciding what dinners I'll make and what groceries I need to buy. We got the budget question a lot during our first pledge, so we took another 100-day pledge on a budget of $125 per week (for the four of us). It wasn't always easy, but we didn't starve or ever have to succumb to processed food. With a little creativity it can definitely be done.
CP: Did you ever have cravings during the 100 days?
LL: At first I really craved sweets and my beloved white chocolate mochas. But I eventually figured out great "real food" alternatives for those so, surprisingly enough, what we missed even more were condiments, and that's because good alternatives were challenging to make from scratch so we ended up basically skipping ketchup and mayo during our pledge. But now that our pledge is over we do use them on occasion as our exceptions to the rule.
SEE ALSO: Lisa's favorite travel snacks
CP: How did you come up with your recipes?
LL: At first I started by converting recipes I loved that used processed ingredients. Then later (when I got more confidence) I started making up recipes from scratch based on meals that inspired me – I am constantly soaking up anything and everything food-related.
CP: How exciting your book made the No. 1 spot on the NYTimes best seller list. How does that make you feel? Any plans for future books?
LL: It feels absolutely amazing to have accomplished such a wonderful goal — amazing as in I could die tomorrow with no regrets (other than leaving my family, of course). I am not sure what the future holds beyond that at this point. Writing my first book was intense and crazy, but I think it's a lot like childbirth — you eventually forget the hard parts and decide to do it all over again. I have no solid plans at the moment, but am certainly open to future projects.
CP: Any general recommendations for families who are skeptical, concerned about how to keep up with a "real food" diet?
I recommend to start small — don't get overwhelmed and give up all together. For example, start with breakfast and once that meal is cleaned up then start tackling lunch or snacks. It's important to remember that any small change in the right direction is better than none — and the changes you make will eventually become your new normal so hang in there.
SEE ALSO: Four quick, wholesome dinner ideas (no recipe required) from Lisa.
Follow Lisa's blog at 100daysofrealfood.com.