10-Step Countdown for Birthday Party Planning Perfection
A week-by-week guide to making party planning a piece of cake.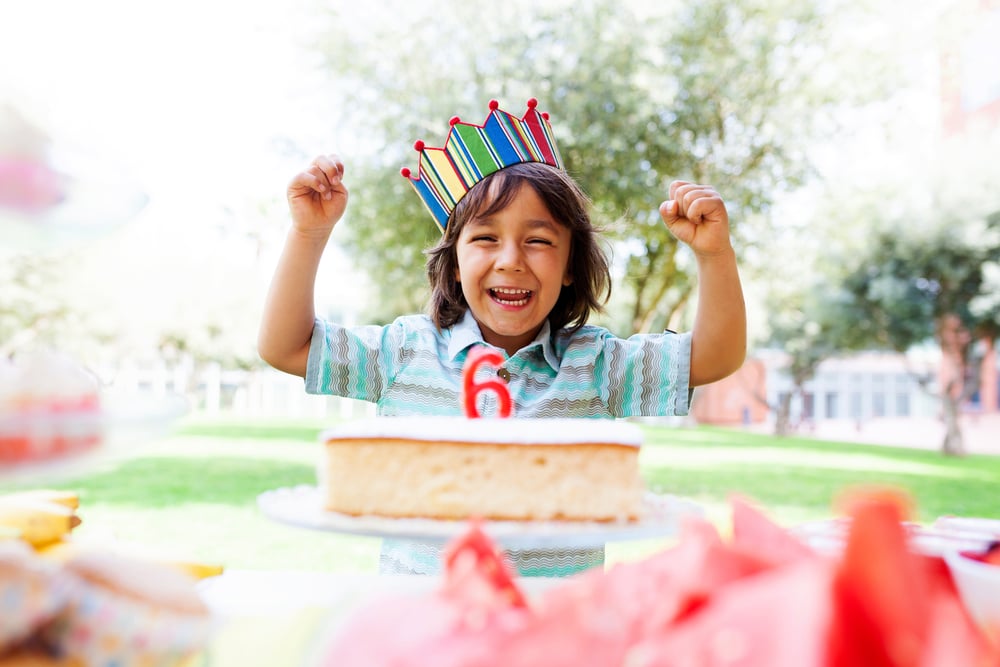 My how time flies, and it really speeds up when you realize your little one's birthday is right around the corner. Your dream? The perfect party celebration minus the stress.
"The best way to keep your child's party stress-free would be to first remember it is a celebration," says Angel Wilkes, owner and chief event organizer (CEO) of The Children's Party Plus Team in Charlotte. "If you are stressing planning this party, you are doing it all wrong."
Follow this week-by-week, 10-step countdown for guaranteed party preparation perfection.
---
10. Eight to 10 Weeks: Determine a Budget
Once you figure out how much you want to spend, other details fall more easily into place. Knowing (and sticking with) the birthday budget also prevents pre-party meltdowns. It is easier to say yes or no to birthday requests when you know the numbers.
Our tip: Some venues offer discount pricing if the party is on a weekday or Sunday afternoon.
---
9. Eight Weeks : Make a Guest List
How many children you invite helps determine where to host the party. Pizza, a movie and a sleepover works well for just a few friends. If your child is going to invite all of his soccer pals, you may not want to have the party at your house.
Our tip: Talk with your child about who he wants to invite to the party. If you need help, start with a number and work with your child to figure out whom to include on the list.
---
8. Seven to Eight Weeks: Book the Venue
From nature-themed parties to trampolines, ice skating or laser tag, narrowing down the perfect place can be difficult. If your birthday boy or girl has his or her heart set on a particular venue, consider booking it up to six months in advance and prepare to be flexible.
"Most party places book at least two months in advance," says Ebonie Brown, president of Kreative Treasures Katering and Kids Party Planners, a social event company based in Raleigh. "Park reservations need to be made ahead of time, and if you have opted for a home party, you'll need a little extra time to work out the details."
Our tip: Parents and caregivers are the best resources for getting the inside scoop on top party venues.
---
7. Six Weeks: Save the Date
Between work schedules, school breaks, holidays, sports games and other obligations, finding a good day to hold a party can be challenging. Look at your calendar and find a few options that work. Being flexible with dates might also help you land the venue you want.
Our tip: If your child has a few friends she could not imagine the day without, talk with their parents or caregivers about date preferences.
---
6. Five Weeks: Determine a Theme
Depending on the age of your child, this next step could be simple or take a few brainstorming sessions. Offering a few choices might help get the job done quickly with minimal tears or arguments.
"Always utilize themes and colors that are in season or plan early enough in advance to get discounted products," Wilkes says.
Our tip: If your child can't decide on a theme, visit a party store. Seeing characters on plates, cups, favors and balloons could help her decide what she really wants.
---
5. Four Weeks: Send Invitations
Will you send invites via snail mail, email or have your child call or ask in person? If the birthday boy or girl would prefer not to have birthday gifts or to collect items for a local nonprofit organization, include the information on the invitation. Keep in mind that some venues require waivers that can be sent via an email link.
Our tip: If you put your email address on the invitation, you might have better luck with RSVPs.
---
4. Two Weeks: Food and Goody Bags
Depending on where you are having the party, you may not have any decisions to make. But if you are having the party at your home or somewhere that does not supply the cake and snacks, you need a menu. Place orders now.
For birthday parties held at home, Brown recommends adding a personal touch.
"If you have family-favorite recipes, cook it up. It will be a nice gesture, but don't make this your focal point," she says.
Our tip: Let the birthday boy or girl help stuff goody bags, which can help you check items off the to-do list.
---
3. One Week: Send a Reminder
Expect a few last-minute responses. Remember to include directions and anything the children might need to bring to the party.
Our tip: Be prepared for last-minute changes. Anticipate cancellations, last-minute RSVPs and questions.
---
2. Two Days: Select an Outfit
Depending on his or her age, you may need to help your child decide what to wear to the party. If the birthday is at the ice skating rink in the summer, get ready to dig out a hat and gloves. Headed to a bounce house? Remember socks. Plan ahead. Starting the day arguing over shirts, shoes or which dress to wear can take away from birthday fun and raise the stress factor.
Our tip: Put the outfit out the night before so you know it is clean and in a place your child can find it.
---
1. The big day is Here: Be Ready!
If the party is not at your house, be sure to arrive at least 20 minutes prior to the start of the party. When parents arrive, have them sign any releases and jot down their contact information. Also remind parents or caregivers of the pickup time. Enjoy the day, take lots of pictures and remember, you have 364 days to plan your child's next birthday.
Our tip: Hire an older child or family friend to help out so you can enjoy the party, too.
---
Courtney McLaughlin is a Charlotte native, freelance writer and mother to 10-year-old Bella.