10 Reasons to Plan a Holiday Visit to the Omni Homestead Resort
From snowmobiling to a gingerbread house class, there's something for all ages.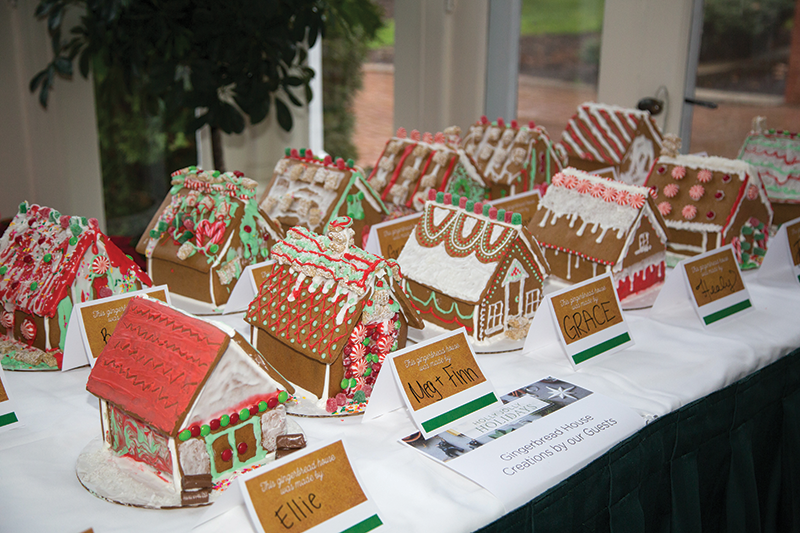 Tucked in the Allegheny Mountains of Virginia is The Omni Homestead Resort, a historic hotel that opened in 1766. Today it caters to families throughout the year, but is especially magical in the winter. Less than five hours away from Charlotte, my family visited for a long weekend when the Allegheny Mountains were blanketed in snow.
1. Skiing and snowboarding. With more than 45 acres of wide, well-maintained trails, the Omni Homestead's slopes are perfect for beginners and those with experience on the slopes. Group and private lessons are offered for children and adults. Little ones ages 5-11 can also learn the basics of skiing by participating in the Little Penguins Program, which includes hot cocoa and plenty of fun in the snow.
2. Snow tubing. The Penguin Slides Tubing Park is next door to the slopes, and it's where your entire family can enjoy all the classic thrills of sledding without having to trudge back up the hill. The Omni Homestead Resort's tubing park features well-groomed lanes and the Penguin Express, a new tubing area conveyor. Participants must be age 5 or older and 48 inches or taller to tube.
3. Snowmobiling. A new offering this year is snowmobiling at Mountain Lodge. Children ages 6-12 are welcome to take a whirl around the lodge on mini snowmobiles made just for them.
4. Zip lining. The Red Tail Racer, for ages 8 and older, is a dual zip line extending 1,300 feet from the ski area mid-station to the resort's lodge, providing an opportunity for solo zips or side-by-side racing through the incredible Allegheny Mountains at speeds of up to 35 miles per hour. The Red Tail Racer is part of The Ridge Runner Zip Tour that offers eight zip lines spanning more than 4,000 feet at heights up to 79 feet off the ground.
5. Popcorn and movie nights. Watch football in the family-friendly bar area near the lobby, or go bowling in the game room before taking advantage of nightly popcorn and movies in the turn-of-the-century Homestead Theater, which typically offers showtimes at 7 and 9:30 p.m.
6. Indoor pool. The Homestead's historic indoor pool was built in 1904 and is fed by naturally warm mineral spring waters where the resort was founded. Open year-round and located adjacent to the resort's spa, the indoor pool is the perfect place to wrap up a day on the slopes.
During warmer months, enjoy a large outdoor pool and the resort's Mountain Rush, featuring two 100-foot water slides (for riders at least 48 inches tall). You can also take a leisurely float along the 400-foot lazy river. Kids can enjoy the water play zone and sandy beach as well.
7. Homestead Holiday Express Hayride. Take a trip on the Homestead Holiday Express Hayride, offered between Thanksgiving and New Year's Day. Participants can enjoy singing, hot chocolate and s'mores.
8. Santa Claus fun. Santa is on location during Thanksgiving and Christmas holidays awaiting your child's letters. Be sure to get a family keepsake photo with Santa and join his elves in the lobby every evening for bedtime stories during a pajama party that will not disappoint.
9. Holiday arts and crafts. Families can choose from a variety of fun holiday items to create and take home, and you can sign up the entire family for the jigsaw puzzle contest or gingerbread house decorating event. Each gingerbread house is made from scratch in the resort's pastry shop, where festive cookies are also baked and made available for decorating — and eating, of course.
10. Omni Homestead Resort KidsClub. For children ages 3-12, The Omni Homestead Resort KidsClub offers a variety of fun and well-supervised activities. Families can sign up children for half- or full-day activities, as well as a Kids Night Out if a parents' date night is on the agenda.
Learn more about the The Omni Homestead Resort and its holiday itinerary at omnihotels.com/blog/homestead-for-the-holidays.
Adrian H. Wood, Ph.D., is a North Carolina writer who lives in Edenton with her husband and four children.