10 Pick-Your-Own Farms for the Family to Enjoy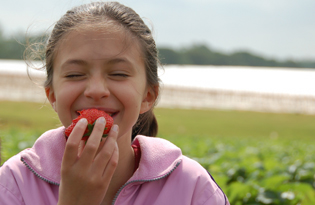 It's time for pickin! If you're looking for fresh local fruit and want your family to experience the fun in picking their own, check out this list below.
1. Black's Peaches
Pick-your-own strawberries in May and pick your own peaches from June-September. 1800 Black Hwy., York, SC. blackspeachesandbakery.com.
2. Bush-N-Vine
Pick-your own-strawberries from April-June. 1650 Filbert Hwy., York, SC. bushnvinefarm.com.
3.Carrigan Farms
Pick-your-own Apples and Strawberries. 1261 Oak Ridge Farm Hwy., Mooresville. carriganfarms.com.
4. Knob Creek Orchard and Creamery
Pick-your-own farm offering a variety of fruits and also a roadside market. 6471 Fallston Road, Lawndale. knobcreekorchards.com.
5. Lattimore farms
Pick-your-own strawberries at this family owned farm. 317 Peachtree Road, Shelby. lattimorefarms.com.
6. McCurry's Blueberry Farms
This one speaks for itself, plain and simple. 735 Wise Road, Lincolnton.
7. Spake Strawberries
Containers are provided at this pick-your-own strawberry farm. 1230 Spake Circle, Shelby.
8. The Hunter Farm
Stay tuned for this pick-your-own strawberry experience. Coming back in 2015! 13624 Providence Road, Weddington. thehunterfarm.org.
9. Windy Hill Orchard and Cider Mill
Pick-your-own apples and enjoy freshly pressed apple cider in the fall. 1860 Black Hwy., York, SC. windyhillorchard.com.
10. Wise Acres
Pick-your-own strawberries. 4701 Hartis Road, Indian Trail. wiseacresorganic.com.
Looking for farmer's markets that do the work for you? Check out our list of farmers markets and more details on pick-your-own farms.
Are we missing one of your favorite pick-your-own farms? Enter their information here!