10 Must-Have Products for Back-to-School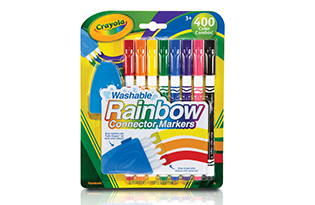 1. Crayola Washable Rainbow Connector Markers.
Snap together two or three markers onto the Triple Gripper and create multicolor effects.
$6.49, crayolastore.com.

2. Five-Star Stay-Put Folder.
This three-pronged folder, available in many colors, features a pocket for index cards and tabs in the corners to provide extra protection for schoolwork.
$3.99, mead.com.

3. Genuine Monkeez and Friends Back Pack Clip Ons.
Several varieties of adorably small sock animals serve as a fun addition to your child's backpack. 
$6.95, monkeezandfriends.com. 

4. Glo-Lite Ruler.
Available in three colors, this ruler brightens up the measuring process with the touch of a button.
$6-$8.99, staples.com.

5. Halo Sani-Cuffs.
An innovative way to keep kids healthy at school, disperse this refillable and wearable hand sanitizer at the push of a button.
$3.99, armorteria.myshopify.com.

6. Pilot B2P Gel Pen.
This retractable and refillable pen is made from recycled plastic bottles.
Three-pack, $5.99, pilot-b2p.eu.

7. Pilot FriXion Light Erasable Highlighter.
This highlighter writes bright and erases clean.
Three pack, $4.57, pilotpen.us.


8. Post-it Attach and Go Dispenser.
Perfect to stick in the front cover of a notebook or folder for easy access to tabs and notes. 
$3.99-$4.99, post-it.com.

9. Skullcandy Backpack
Pockets are crucial when it comes to organization, but this comfortable foam-padded backpack has that covered. Complete with two side pockets, a front-zippered pocket, a media pocket with an audio port and a large pocket with a laptop sleeve, this is sure to keep your child organized at school.
$44.99, staples.com. (Other models available at skullcandy.com.) 

10. Twin-Color Folding Pen Pouch
This colorful pouch with a prop-able pocket and additional compartments serves as a creative solution to storage.
$29.95, mochithings.com.