10 Items to Pack in Your Summer Travel Bag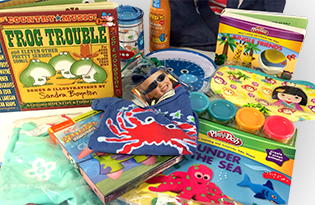 Summer is all about traveling, being with friends and family, and most of all soaking up the warm weather. Here's a list of products you might want to grab before you head out of the house.
1. Have a picnic in the park or on the beach. Wherever you go, don't leave behind the K-Mart Shakey Cup and Plate Sea Fish Collection.
2. SpongeBob Squarepants his buddy Patrick invite all the cool kids to enjoy a collection of Spongebob cartoons on under-sea adverntures. Pop this DVD in for one of those car rides to the beach!
3. Protect your kids from the sun's UV rays with a sun poncho from Eclipse Kids.
4. Kiss My Face Kids Defense Air Powered Spray with broad-spectrum SPF 50 helps protect everyone's skin. "Spray and let them play."
5. Pack your toileteries in a Kimmidoll Junior travel accessory bag, perfect for those last minute day trips!
6. Little ones will look cute and be protected from head to toe with cute, UV50+ swimwear from Snapper Rock.
7. Every child needs their own pair of sunglasses and the Real Kids Shades gives 100 percent UV Protection.
8. Hands-on learning just became a lot cooler with the Under the Sea and Jungle Friends Read and Play Play-Doh set.
9. Pop in the Frog Trouble: And Eleven Other Pretty Serious Songs CD and sing along to tunes by Brad Paisley, Alison Kraus, Ben Folds, Ryan Adams and more. You may find you like this CD as much as the kids!
10. Pack all these items in a cute Hiho Batik hand-made tote, and if you have a toddler or infant, get them in a Fourth of July-inspired onsie or T-shirt.
Contest Alert! Enter to win all these goodies pictured above! Contest ends July 27.