10 Free Places to Explore With Your Toddler
Plan your playdate with these go-to ideas.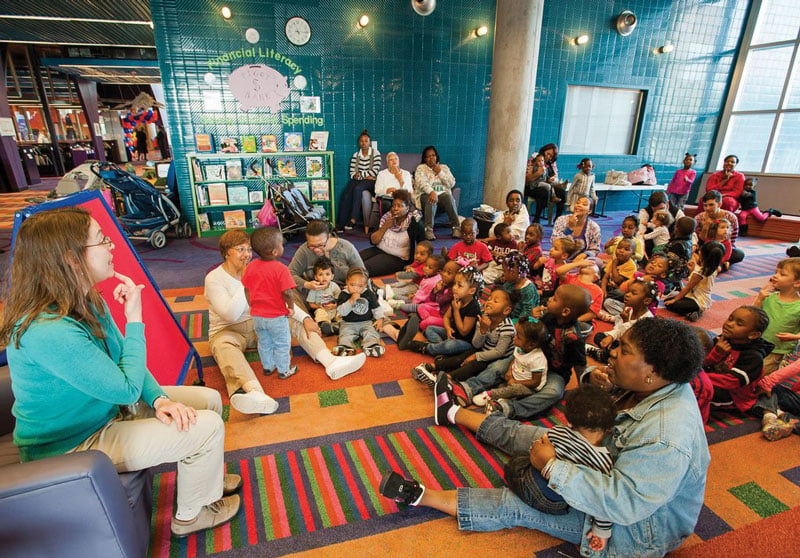 Editor's note: Original story updated in April 2018.
There's no denying that having a baby is expensive.
First, there's everything you need to outfit your life to prepare for the baby, including a crib, car seat(s), stroller, glider, bottles, bottle warmer, baby-wipe warmer, diaper bag. Whew! That's all before the baby even arrives.
Then, it's an endless supply of diapers, baby wipes and maybe formula. As they get a little older, it's time for entertainment, which can get expensive real fast. Take a deep breath. The good news is that there are plenty of free activities around Charlotte for both toddler and parents to enjoy. Here are 10 of our top picks for things to do with your toddler for free.
---
Adventure Time
Watch planes take off at the airport overlook. Planes, trains and automobiles are all many little boys think about. Blow his mind with a picnic at the Airport Overlook. Planes fly overhead so close that he'll think he can touch them. The Airport Overlook is located at 4355 Airport Overlook Drive, Charlotte.
Go public art spotting with the Arts and Science Council. The Firebird in front the Bechtler Museum of Modern Art is one of the most well-documented selfie-shot spots in uptown. But did you know that there are dozens of other public art installments throughout Charlotte, most of which are walkable in uptown? The Arts and Science Council helps families explore the Queen City's public art with either a map, walking podcast, or a scavenger hunt. My 1-1/2-year-old son enjoyed staring up at the colorful metal garden sculpture outside of the Carillon Building and climbing on the Writer's Desk outside of ImaginOn. Find out more at the Arts and Science Council website:
Host a treasure hunt with geocaching. Geocaching is one big treasure hunt. And what preschooler doesn't love a treasure hunt? There are more 2 million geocaches hidden worldwide, with many located right here in Charlotte. Download the free app at geocaching.com and see where your geocache hunt will take you and your toddler. Maybe wear pirate costumes for extra fun.
Explore the great outdoors at a nature preserve. Charlotteans are blessed with not one, not two, but three nature preserves — Latta Plantation, McDowell and Reedy Creek. Each offers learning centers where children can see animals or flora up close and personal, and each hosts nature workshops and classes for little ones. If they prefer to be outside, there are plenty of nature trails to explore and each nature preserve has a lake to throw in a fishing line.
Play in the sand. Jetton Park is the granddaddy of parks in Lake Norman. In addition to shaded walking trails, tennis courts and a playground, there's a beach alongside Lake Norman. Pack some sand buckets and shovels and build a sand castle. Or bring the Monster Trucks to build a course on the beach. When your toddler date gets tired, the paved walking path is perfect for strolling your sleepyhead. It's free during the week, but there is a $3 per car park entrance fee on weekends from March 1-Oct. 31. Jetton Park, 19000 Jetton Road, Cornelius.
---
Splash in a sprayground. When the weather is hot, Charlotte's many spraygrounds are free and a ton of fun. You'll both laugh as your toddler runs squealing through a blast of cold water. Two of the most popular spraygrounds are uptown's Romare Bearden Park, and The Green with its gigantic fish statues that shoot water from their mouths. Other options include First Ward Park uptown, Veteran's Park on Central Avenue, Little Sugar Creek Greenway in Midtown, Latta Park in Dilworth, and Birkdale Village in Birkdale near Huntersville.
Slide, swing and see the ducks at Freedom Park. Freedom Park is centrally located on East Boulevard. A recently renovated playground beckons little ones to slide, climb and swing. Wander over to the 7-acre lake to look for ducks and geese, and then go on a nature walk (or stroll) at the Little Sugar Creek Greenway that runs alongside Freedom Park. Pack a picnic lunch to have at the park, and then prepare for a nice long afternoon nap at home.
---
Inside Activities
Go play at the mall. It's raining outside and your toddler is going stir crazy — like books-are-flying-off-the-shelves stir crazy. Don't stay cooped up in the house. Head to Carolina Place Mall in Pineville or Northlake Mall near Huntersville to romp on the free children's play centers. And on a nice day, explore the pint-size pirate playground outside Southpark Mall (between the mall and Dick's Sporting Goods store entrances).
Explore at Toys and Co. A Charlotte Parent Readers' Favorite for favorite toy store, Toys and Co. at Cotswold Shopping Center has multiple train tables and activity demos set up to keep kids entertained. It also hosts special events, including live music one weekday morning each week. Check the store's website for schedule and details.
Storytime at ImaginOn. New parents may not realize this, but ImaginOn: The Joe and Joan Martin Center is more than a library. It's a free children's activity center in uptown Charlotte. One of the most popular activities is the storytime each day at 10:30 a.m. Interactive sessions are filled with stories, songs and movement activities. There's also a big wooden truck for climbing and playing on, and interactive tablet stations with preloaded apps, plus tons of books to explore. There is a special area designated for babies and toddlers that includes hands-on activities as well. There's even free 90-minute parking in the parking deck below ImaginOn, accessible from Sixth Street. ImaginOn, 300 E. Seventh, Charlotte. imaginon.org.
Bryan Richards is a craft beer, food and travel writer who recently added family travel writer to his credentials with the birth of his son. He's also the author of The Wandering Gourmand, a culinary and craft beer travel blog.