10 Family-Friendly Summer Activities in Charlotte (That Are Still Possible)
Fun dog days are still possible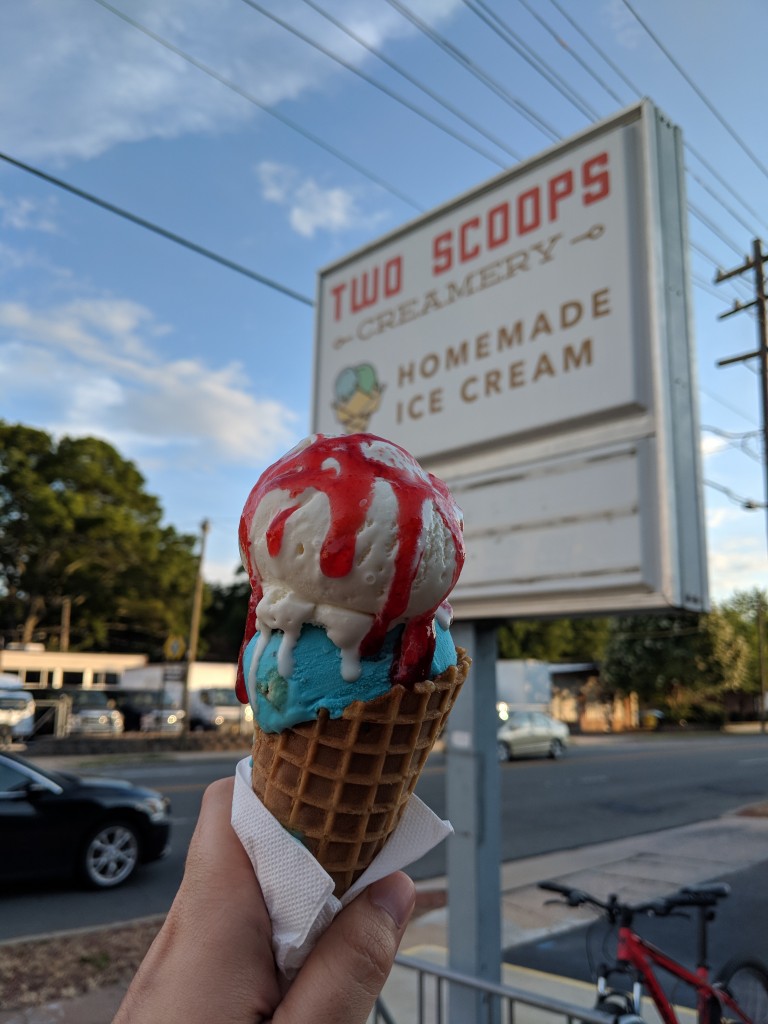 FROM A FROLIC in a populated Freedom Park to a zoom down a Whitewater Center zip line, Charlotte is typically an active summer city. (Also: Remember when "zoom" had only one meaning as a verb?) Not this year. COVID-19 has changed our reality in 2020, and this season—normally a fun-filled break for families—wasn't spared. Charlotte magazine's recent A Stay-at-Home Summer Guide for Charlotteans shows that fun and lively dog days are still possible, though. We've included the family-friendly entries on that list below:
---
Find your favorite flavor of ice cream.
Don't want to linger inside? No problem. Get these treats to go.
For the no-frills soft-serve fan: Family-owned in Charlotte since 1967, Mr. K's in South End serves up good, old-fashioned soft-serve in three flavors—chocolate, vanilla, and a twist of the two. Order it "blitz"-style with your choice of toppings, which include gummy bears, pecans, sprinkles, Butterfinger, M&Ms, and more. Mr. K's serves sundaes, malts, shakes, and other sweet treats, too. 2107 South Blvd.
For the adventure-seeker: Two Scoops Creamery is known for homemade, "secret" family concoctions like Cookies by the Sea, Krazy Kake, Nana Delight, and Boom. The Plaza Midwood mainstay, owned by three Charlotte friends, serves unique, fun, funky flavors. Take your ice cream to go or have a pint delivered.
913 Central Ave.
For the lover of locally sourced ingredients: Not only is everything made fresh on-site at The Local Scoop in Ballantyne, but the ice creams (with rotating flavors like Vanilla Bean, Sea Salted Caramel, and Nutella Truffle) and gelato are made with locally sourced milk from Jackson Farms and Homeland Creamery.
5355 Ballantyne Commons Pkwy. —Virginia Brown
---
Up your gardening game.
Outdoors, socially distant—what a wonderful activity gardening is during the spread of an airborne virus! Early summer, through mid-July or so, is a perfect time to plant a host of vegetables, like eggplant, summer squash, cucumbers, peppers—and tomatoes, which thrive in the abundant sunlight of June and early July. Once the calendar closes in on August, get your fall garden ready: lettuce, spinach, kale, cabbage, and Brussels sprouts, which require you to plant deeper in drier soil. Plant rows a week or so apart to avoid a wasteful surplus, and revel in the fact that you needn't visit the supermarket to enjoy fresh produce. —Greg Lacour
---
Spend some time in Freedom Park.
Opened in 1948 in honor of Charlotte's World War II soldiers, 98-acre Freedom Park in Dilworth is known for the gorgeous cherry trees at its entrance. Tons of room for picnics and reading make this popular "central" park one of the city's most beloved. During a typical summer, you could walk, run, or bike the paved trail that meanders around a 7-acre lake or play on the basketball courts, soccer fields, and tennis courts. Usually, the park hosts a variety of events like Festival in the Park in fall and during summer: concerts, including jazz, draw crowds to the covered amphitheater. But right now, walkers, runners, and cyclists: Keep it moving! One more warning: Watch out for the park's infamous goose poop, which is still congregating in the park. —V.B.
---
Get your wiggles out.
If months of home confinement have your little ones itching to get up and move, sign them up for virtual lessons at Arts+. The faculty at Arts+ (formerly Community School of The Arts) has worked since the onset of the pandemic to make art and music lessons available online. SingPlayMove lessons are for children ages 3 through 6 and their families, and they teach kid-friendly songs, moves, and tips for making music on your own at home. Visit artsplus.org/programs for more information. —Taylor Bowler
---
Turn your backyard into a sports venue.
When the parks are closed and you long for the great outdoors, it's time for some DIY adventure. Here are three ways to transform your backyard into a sports complex while also shopping local:
Ropes Course
If your yard has two or more trees, tie ropes to them, attach anchors, and hone your balancing skills. The U.S. National Whitewater Center's Outfitters store ordinarily carries brands like Sterling and Black Diamond—but at press time, the store remained closed under the state Stay-at-Home Order. (You can always purchase equipment directly from the companies.) You can also purchase adventure gear and accessories from Great Outdoor Provision Co. (4275 PARK RD.), a small chain of adventure equipment stores in North Carolina and Virginia. Whatever gear you buy, we recommend you keep your makeshift course safely near the ground.
Soccer Arena
Major League Soccer is coming to Char-lotte, and it's only adding to the sport's popularity in the QC. Play It Again Sports (8500 Pineville-Matthews Rd.) has a local location, but you can also purchase anything you need online. Find balls, cleats, goals for your yard, and even shorts in both used and new condition.
Cornhole
OK. So this one's not as high-impact as the previous offerings. But some of us need a game that doesn't require putting down our beer. If you invest in your own cornhole set, it's important to note that some of our most prominent sports teams (outside of the great sport of cornhole) have their own sets: The Carolina Panthers have one in the NFL Shop, the Charlotte Knights licensed a set through Victory Tailgate, and the Charlotte Hornets sell a set in the NBA Store. —Andy Smith
---
Take in a concert from your couch.
Summer is typically the season for outdoor concerts at PNC Music Pavilion or Charlotte Metro Credit Union Amphitheatre. In lieu of shows packed with disease vectors, several local music venues will host virtual concerts instead of in-person performances. The Evening Muse and The Milestone have pivoted to video. In April, The Milestone held a "digital benefit" with performances from Mike Watt of The Minutemen and fIREHOSE, J. Robbins of Jawbox, and local acts like Dollar Signs, Late Bloomer, and Dylan Gilbert of Hectorina. —A.S.