10 Baby Basics on a Budget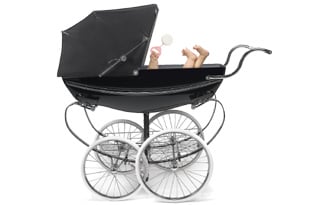 In today's economy, sticker-shock can feel more like high-watt voltage. A 2009 report issued by the U.S. Department of Agriculture indicated that the average American family spends nearly $11,650 and $13,530 in the first year of a new baby's life. New parents may need a dose of economic-salve to lessen that financial sting. Baby basics don't have to break the bank account. Here's a list of must-have items with an idea of the price ranges and options for finding them for less.
Diapers
Want more diaper for the dollar? Buy in bulk. As a general rule, the higher the diaper count, the lower the cost per diaper. For example, a 180-count package of Luvs diapers, averages .09 cents per diaper, compared to a 42-count package of the same brand that averages .18 cents. For online savings, www.Diapers.com is a great resource. Considering cloth diapers? You might be interested in www.fuzzibunz.com, a revolutionary cloth diaper that will fit your child from infancy to potty training.
Play Yard
A Play Yard – or Pack-N-Play – from a retail store can start as low as $46 for a basic model, or as much as $170 or more for models that include a bassinet, changing table, a toy arc, diaper organizer and newborn-napper. Save a buck by shopping Craigslist (www.craigslist.org) for a gently-used play yard. Costs for used play yards usually range from $15-$90. Consignment shops also stock an array of play yards ranging in costs from $30-$75.
Stroller Travel Systems
The average price you can expect to pay for a travel system in a retail store ranges from $110 to $240, with higher-end models costing up to $800. Consider what you will use the stroller for most before investing. Are you a jogger? Do you want something that converts for a toddler or simply something for the infant carrier? Snap N Go strollers work with most infant carriers, and cost about $50, and can often be found on Craigslist. Resale travel systems can be found online for as low as $40, while consignment shop browsers found the average price to range anywhere from $10 to $100.
Cribs and Mattresses
Affordable cribs at retail stores range from $119 to $250, while higher-end models can sell for $1,000 or more. With recent recalls regarding drop-side cribs, parents-to-be need to sure they aren't purchasing a crib with safety hazards if they choose to by secondhand or use a hand-me-down. A checklist of secondhand crib safety features can be found at www.TheBabyDepartment.com, or go to The U.S. Consumer Product Safety Commission at www.cpsc.gov/ to search for recall information. Crib mattresses in retail stores range from $49-$100, while consignment shops average $50 and consignment sales, around $25.
Convertible Car Seats
A three-in-one convertible car seat is designed for infants to face the rear of the vehicle, and for toddlers to face the front of the car. Most accomodate children starting at 5 pounds and up to 100 pounds. Don't be fooled by brand names and prices. One family found a $57 model offering the same features as a $170 model.
Changing Station
Many parents confess that they use the floor, couch and bed for diaper changes more than the changing table itself. A less expensive alternative or convenient addition to a changing table is a contour changing pad, which sells for approximately $26 and can be carried around the house.
Infant Swing
Secondhand shoppers often find infant swings in great condition. Swings retail for $100 or more. Motivated sellers may be willing to negotiate prices online, so don't be afraid to haggle.
Highchair
Basic models start around $30, but those that offer additional features, such as wheels and height adjustment, can cost as much as $200 or more. Online sellers typically ask between $30-$65, while consignment shop prices range from $20-$70. Most parents give priority to a highchair that is easy to clean.
Check www.babyproducts.about.com for a list of the top highchairs rated by parents. To see which stores sell specific items, go to www.nextag.com. Simply enter the product to find which store sells it for less.
Activity Jumper
Don't let this item break your budget. An activity jumper won't be needed right away, so there's ample time for bargain hunting. At most retail stores, activity play stations range from $40-$130 or more. They may also be found for quite a bit less at consignment sales. To find consignment sales near your area visit www.consignmentmommies.com.
Bouncy Seat
This is another item that is worth your browsing-time. Since a bouncy seat is used for only a few months of the baby's life, many used models can be found in great condition. While the retail average cost ranges widely from $25-$200, Craigslist sellers price bouncy seats between $10-$40, and consignment shop bouncy seats tend to range between $18-$40.
Christy Evers is a freelance writer who lives in Morrisville with her husband and three children.